Loft Opera mounts the Rossini Otello.
by Paul J. Pelkonen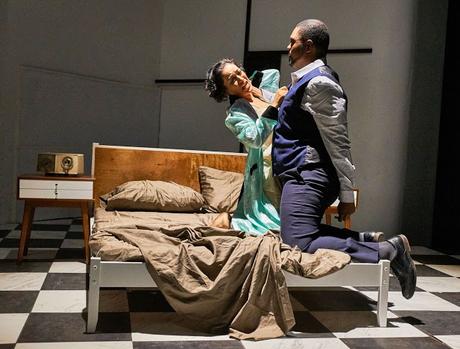 A word before you go: Otello (Bernard Holcomb) assaults Desdemona (Cecilia Lopez) in Rossini's opera.
Photo by Robert Altman for LoftOpera.
LoftOpera opened its 2017 season last night, choosing LightSpace Studio, a high-ceilinged, white-walled warehouse on Flushing Avenue in Bushwick as the venue for the company's first staging of Rossini's
Otello
. Yes, you read that right. There's a (now mostly forgotten) Rossini version of this Shakespeare story, written back in 1816 and a pinnacle of the repertory before it was eclipsed by the Giuseppe Verdi opera from 1887. This performance marked the first New York staging in forty years.
However, Rossini's librettist, Francesco Maria Berio di Salsi took considerable liberties with Shakespeare. While Verdi eliminated
Othello
's Venetian act to set the drama entirely on the island of Cyprus, Salsi mounts the action in Venice itself. Rodrigo becomes a main character, giving him the "Cassio" role of Othello's rival, both real and imagined in the Moor's fevered mind. Also, this opera replaces the handkerchief with a letter and makes the fact of Otello and Desdemona's secret marriage (a plot point in the first act of Shakespeare's play, albeit one eliminated by Verdi) central to the action of the show.
At the center of this staging stands tenor Bernard Holcomb, who tackled Rossini's challenging vocal writing and fearsomely high
tessitura
with a bold technique and impressive stage presence. (It should also be mentioned that Mr. Holcomb is African-American, physically suited to the role of the Moorish general without the need for embarrassing walnut stain.) His voice was huge in the resonant acoustic, reaching impressive heights as his passion turned to jealousy, rage and finally, murder.
He was matched on those lonely heights by Thor Arbjornsson, who had his own ladders of notes to scale as Rodrigo. Indeed, the two tenors squared off at the end of the second act, knives at the ready like something out of West Side Story but with
bel canto
writing at its most exciting. Each singer shone in their individual arias too, creating strong personalities who each believed that they had a genuine right to the hand of Desdemona: one by marriage and love, the other by parental consent.
As the object of their affections, Cecilia Lopez proved to be a fiery and compelling Desdemona. This is not the shrinking violet of the Verdi opera, but a real and loving woman with strong emotions and passions. Ms. Lopez had tremendous moments in the climax of the first act (where her father's determination to marry her off to Rodrigo is stymied), the trio and mad scene in Act II and finally, her murder at Otello's hands, which ranged from a plaintive "Willow Song" to a surging confrontation with her enraged husband that was thrilling to listen to and very uncomfortable to watch.
The character who suffers the most in this opera is Iago. Shakespeare's greatest villain is reduced to an intrigue-obsessed walk-on player, hardly the fiend of Verdi's opera. He was performed with a shark-like, villainous presence by tenor Blake Friedman, who matched his
fach
comrades when needed, only to suffer an ignominious offstage death. On the non-tenor front, the role of Elmiro, Desdemona's father was sung by the wonderfully named Isaiah Musik-Ayala, a firm, resonant bass that may have great things in his future.
Although LoftOpera's orchestra were game under the baton of Sean Kelly, there were missteps in the strings and watery tone from the horns. These could be put down to the problems of an opening night playing an unfamiliar score in an industrial space. The opera was updated by director John de Los Santos to 190s Venice, for no apparent reason other than to show off some dapper vintage suits, worn by the cast and chorus. Indeed, without the music, this snazzy
Otello
would have worked well as a Bushwick fashion show.