City Opera Explores Treemonisha in Harlem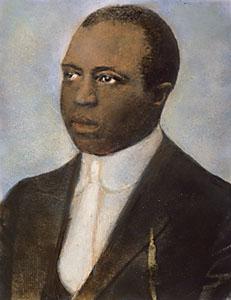 Scott Joplin, composer of Treemonisha.
On Monday night, the New York City Opera gave a concert performance at Harlem's Schomburg Center, performing excerpts from Scott Joplin's too rarely heard opera
Treemonisha
. Joplin is remembered today as the father of ragtime but struggled all his life to be counted as a composer of serious music.
Those who know Joplin from the "Maple Leaf Rag" or "Solace" (played before the opera by Mr. Roy Eaton) might be surprised by the soaring arias and rich choral textures of
Treemonisha
. The two-act opera has passages inspired by Handel, Beethoven and Wagner, shot through with Joplin's own gift for memorable melody. One number, the closing "A Real Slow Drag" was so memorable that it wound up a major hit--for Irving Berlin, who hijacked the melody to write "Alexander's Ragtime Band."
Like Wagner, Joplin wrote his own libretto, creating a small town where a local girl (the title character, found under a tree as an infant) overcomes superstition and the depradations of three traveling con artists to rise up and become a pillar of her community. In some way, the uplifting
Treemonisha
is a counterpart to Carlisle Floyd's later opera
Susannah
, in which a child of nature is destroyed by a lustful preacher.
The excerpts were performed by a cast of five singers and two dancers, accompanied by pianist Bradley Moore. Soprano Marsha Thompson soared in the title role. Baritone Kenneth Overton and mezzo Krysty Swann sang with fine, powerful voices. Ms. Swann reached powerful heights with "The Sacred Tree", chronicling Treemonisha's birth. Tenor Robert Mack and bass-baritone Kevin Thompson were also an important part of the ensemble, creating rich barbershop-style textures in ensembles like "Bag of Luck" and "We're Going Around."
The program, hosted by Roy Eaton combined a jumble of scenes and numbers from the opera with spoken poetry from several important African-American poets (including Langston Hughes and Maya Angelou) evoking the importance of dreams. A slide show depicted Joplin's Harlem roots, and Mr. Eaton spoke eloquently of the parallels between Joplin's piano "rags" and the "serious" works of Chopin and Brahms.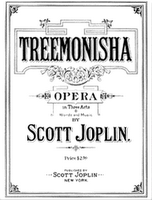 For the past three years City Opera has previewed important works at the Langston Hughes Auditorium. But following the company's announced decision to uproot itself from Lincoln Center, this performance carried new meaning and a chilling portent of what may be in store for the diminished, downsized company. Let's hope that the company's next stab at
Treemonisha
will be as Scott Joplin intended, in a proper opera house with a full band in the pit and company of singers and dancers onstage. That would be a good dream.