Rossini's Guillaume Tell at Caramoor.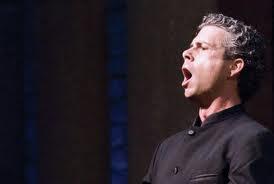 His aim is true: Daniel Mobbs as William Tell.
Photo by Gino Palacio © 2011 Caramoor Festival.
Friday night's performance of Rossini's final opera Guillaume Tell may be the last of this year's Bel Canto at Caramoor series. But tonight's performance at that gorgeous neo-Venetian arts colony in Katonah, NY marked a continued renaissance for this underrated, underappreciated opera.
With the exception of the famous four-part overture, the score of Tell has languished in relative obscurity. for the last 50 years. (The work has not been mounted at the Met since 1931.) Part of the reason for this neglect is the work's difficult vocal writing. It is demanding: four hours in length with six treacherous principal roles. But unlike Verdi's Don Carlo (which is similar in scope and casting challenges), Tell has a tenor role that is almost impossible to cast.
The part of Arnold, (sung here by promising tenor Michael Spyres) is treacherous, with a series of dazzling high notes over the course of four acts. But unlike modern heroic tenors who sing from the chest, an Arnold must use his "head" voice to cut through Rossini's orchestra. The effect is thrilling when it works, but singers who can pull it off are few and far between.
Mr. Spyres has an agile, sweet but smallish voice. He used it to good effect in his Act I duet with William Tell (Daniel Mobbs) and his Act II face-off with Mathilde (the opera's heroine, sung by the splendid Julianna di Giacomo.) Mr. Spyres brought his "A" game to Arnold's Act IV cavatina. But he ran out of voice in the follow-up, a challenging cabaletta that is sung against a chorus of angry Swiss revolutionaries. This is the character's triumphant "big" moment, and while the singer hit the notes, he could not cut through the orchestra and chorus combined.
Swiss independence? 14th century? That leads to the next serious problem with Tell: its plot. Based on a play by Friedrich Schiller, the opera takes a long time to get moving and to generate interest in the stoic figure of Tell himself. Mr. Mobbs sang accordingly, marshalling his reserves until the great Act III scene when the evil Gessler (Scott Bearden) forces the hero to demonstrate his archery skill by shooting an apple with an arrow, balanced on the head of his son, Jemmy (Talise Trevigne.) Mention must also be made of Scott Bearden, who gave dimension to the villainous Gesler with a resonant voice and malevolent stage presence.
As for Mathilde, Ms. di Giacomo did not enter until Act II, but her opening aria changed the entire timbre of the performance. She sang the role with flying colors, delivering her lines with power and authority, mollified with bel canto sweetness. Better yet, she generated warmth and passion in the long duet with Arnold. After the two singers raced through Rossini's vocal obstacle course, they stood silent, ignoring the applause. They chose not to break character even though this was a concert performance of the work.
The complete Tell is a monster-work, running well over four hours when played without pauses. Will Crutchfield did a commendable job editing the opera for this concert performance. He trimmed at least 30 minutes from the score. The Act III ballet was axed. Recitatives were shortened and the best vocal numbers chosen, even if they didn't advance the plot. The surprise inclusion was the Act IV trio, a canon sung by Mathilde, Jemmy and Hedwige (mezzo Vanessa Cariddi), Tell's wife. This trio provided a welcome "deep breath" before the closing pages, and showcased all three singers to fine effect.
Mr. Crutchfield proved himself to be a sensitive, careful conductor of Rossini's score, knowing when to restrain the orchestral frces at his command and giving free rein in the big climactic moments. The Orchestra of St. Luke's played with excellent form, despite some dodgy offstage horn-calls, delivered from the sides of the Venetian Theater and meant to recall the calls of Swiss alphorns echoing through the Alps.
Written in 1829, Tell was Rossini's first original opera for Paris. Due to political changes in France (most notably, the fall of Charles X which voided his royal commission of five operas) it turned out to be his last. Politics, contractual issues and the sheer exhaustion brought on by the white-hot pace of his career combined to force Rossini's retirement at the age of 39. And although Tell was not a huge hit, other composers took notice of this remarkable score. Its influence can be clearly heard, not just in the French grand operas of Meyerbeer and Halevy, but in the work of Berlioz, Verdi, and Wagner.