New York City Opera mounts Così fan tutte.
by Paul Pelkonen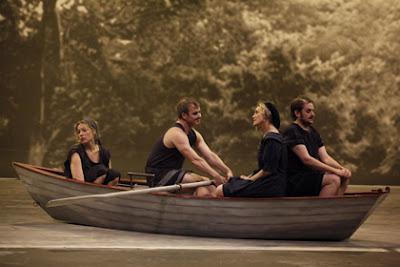 A row to nowhere: the cast of the City Opera's Così fan tutte.
L.-R.: Jennifer Holloway, Philip Cutlip, Sara Jakubiak, Allan Clayton.
Photo by Carol Rosegg © 2012 New York City Opera.
When George Steel assumed command of New York City Opera in 2010, he opened his tenure with a Christopher Alden production of Don Giovanni. Now, Mr. Steel and Mr. Alden have given us the second of three operas written by Wolfgang Amadeus Mozart and librettist Lorenzo da Ponte. Così fan tutte (The title loosely translates as "That's what all the girls do.") is a dramma giocoso, a dark comedy of infidelity and forbidden love. The spare production was mounted in a theater ideal for chamber opera, the 600-seat Gerald W. Lynch Theater at John Jay College of Criminal Justice.
Rather than the usual clowning and drawing-room sets, Mr. Alden presented this opera as a stark, often disturbing exploration of men's attitudes towards women. Set in what appears to be an outdoor park (illuminated at times by ugly sodium lights), this staging is strange from the start, presenting the bet between Don Alfonso (Rod Gilfry) and the soldiers Gugliemo and Ferrando as a Faustian game that ultimately destroys all players. 
This staging of Don Alfonso's "school for lovers" slowly stripped the lovers of ethics, morals and dignity. They lose everything, including their clothes (and possibly, their sanity) as the revalations crash down in the final scene. The final image: all six characters flopped on a bench, self-medicating with one bottle of champagne, indicates that in this game, there are no winners.
In this production, Don Alonso is a Mephistophelean figure, suave and seductive as he leads the two pairs of lovers on a path toward ruined relationships. Mr. Gilfry, whose long experience in Mozart includes recordings of all three "Da Ponte operas (with John Eliot Gardiner) made his City Opera debut with these shows. His preence here is something of a coup for the troubled company.
Marie Lenormand took on the challenging, ungrateful part of Despina, bringing new dimensions to the sister's maid, the opera's trickster role. Ms. Lenormand executed some impressive vocal filigree and some stunning costume changes, including the beginning of Act II where she tricked out in a suit and bowler hat. Wielding a riding crop, she made Mr. Gilfry prance in a bear costume--on loan from a production of The Bartered Bride?
 Sara Jakubiak took on the difficult role of Fiordiligi with a strong, penetrating soprano that was agile enough to handle the treacherous leaps written into the part. She was at her most moving in the work's opera seria passages, particularly "Per pietà, ben mio, perdona," . In this Act II aria, Ms. Jakubiak capturing the pathos of a woman torn between her fiancée and her new "Albanian" boyfriend.
Jennifer Holloway provided contrast as Dorabella. She accented the intellectual side of the character in the first act. Dorabella is the first of the two sisters to admit to falling in love with her new beau Ms. Holloway made the most of her Act II duet with Gugliemo, letting her pliant instrument dive gracefully into the long, seductive vocal lines. 
Allan Clayton (Ferrando) and Philip Cutlip (Gugliemo) did their best not to make their characters interchangeable, despite the fact that pulling that very switch lies at the heart of this opera's plot. Mr. Clayton was a potent presence in his Act II "betrayal" scene. Mr. Cutlip was warm, seductive and very funny in the early acts, but went foetal in the final scene as the truth came out.
Mr. Alden's vision was helped by the compelling conducting of Christian Curnyn. Leading a scaled-down orchestra that was tightly packed in to the theater's pit, Mr. Curnyn favored swift, driving tempos that never gave the music room to breathe. The singers kept up. The orchestra showed itself to be in good form on Thursday night, although certain notes in the brass left something to be desired.