Regina Opera presents Les contes d'Hoffmann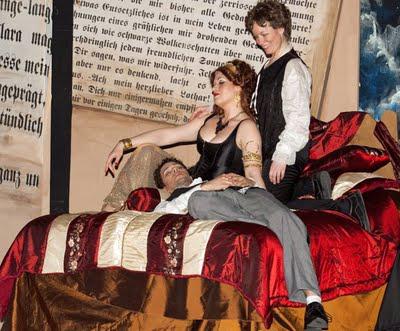 In a palace on the Grand Canal in Venice, the courtesan Giulietta (Christina Rohm, left) and
 Nicklausse (Margaret O'Connell, right) a friend of the poet Hoffmann,  sing a romantic barcarolle.
Photo by Art Lawson © 2011 Regina Opera.
Brooklyn's own 
Regina Opera closed its 2011 season this month with a potent performance of Jacques Offenbach's final opera, 
Les contes d'Hoffmann.
Hoffmann
(sung by tenor Ubaldo Feliciano-Hernandez) is a fictionalized version of an actual 19th century poet, best remembered today for creating the original story of the
Nutcracker
. In this opera, he finds himself at the center of three of his own stories, pursuing love with an automaton (Olympia), a courtesan (Giulietta) and a sickly would-be opera singer (Antonia), and his moral deterioration and despair. Eventually, he realizes that all three women are different aspects of his beloved Stella. Ultimately, he rejects her to continue his work.
Part of the problem with putting on this opera is figuring out which version of the score to use. Offenbach died before finishing the work, so there are a number of options, most of them provided by musicologists and men of the theater. For this staging, the director Scott Jackson Wiley made conservative choices. He placed the Antonia act, with its dramatic finish at the end of the opera. Dappertutto's aria from the Venetian act, ("Scintille, diamant") was transported to the Olympia act, using alternate lyrics provided by conductor Anthony Morss. The result: a taut, sleek performance that made this opera's considerable length go by at a rapid pace.
The performance featured a strong cast. Ubaldo Feliciano-Hernandez overcame a small cold to deliver a powerful, ardent Hoffmann, capable of the work's tragi-comic moments and passionate in his long duet with Antonia. Bass-baritone Bryce Smith was stellar in the quadruple roles of the Four Villains, bringing a different kind of evil to each of Hoffmann's nemeses. The highlight of his performance was the rarely heard 'Tourne, tourne miroir," written by Offenbach but rejected by many singers as being too treacherous.
Offenbach intended for the leading ladies to be sung by the same soprano. This production split the role, allowing a series of engaging singers their turn in the spotlight. Sharon Eisert soared through the role of the doll Olympia, hitting the difficult series of high
coloratura
figures in "Les oiseaux." She also engaged in robotic physical comedy, remaining in character for her curtain call. Christina Rohm was a sultry Giulietta, with a rich mezzo instrument.
As Antonia, Maryann Mootos has a big, unsubtle instrument that was a little large for the hall, but sang beautifully in her duet and in the trio that brings her act to its fatal climax. And although the double role of the Muse/Nicklausse was shortened in this version of the opera, Margaret O'Connell was exceptional, handling the gender-bending of the part convincingly and engaging in a lush, sensual "Barcarolle" with Ms. Rohm.
For the last four decades, Regina Opera has brought the works of Verdi, Puccini, and other masters to their Brooklyn neighborhood. Based in a small church auditorium, their innovative productions use a full orchestra of professional musicians. Director Linda Cantoni did much with limited resources, creating a convincing German tavern and a sensual Venetian bordello. The latter was a picture of Carnival decadence with veils, masks and a whiff of S & M. Too strong of a whiff for some. The couple behind us left, shocked.