Gotham Chamber Opera opens Baden-Baden 1927.
by Paul J. Pelkonen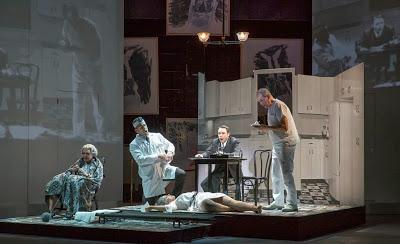 Murder for breakfast. Tenor Matthew Tuell (seated at table)
 contemplates his actions as Maeve Höglund lies supine.
Photo © Richard Termine  from Hin und Züruck,
part of Baden-Baden 1927 presented by Gotham Chamber Opera.
The Gotham Chamber Opera opened its season Wednesday night with a bold experiment.
Baden-Baden 1927
, seen Wednesday night at the company's regular performing digs, the Gerald W. Lynch Theater reunites four short operas from the German arts festival which also lends the program its title. This was the first time these works have been performed together onstage in North America. It's just the kind of edgy programming that suits a company trying to ease itself into the seat once occupied by the late New York City Opera.
These four works (
L'enlèvement d'Europe
by Darius Milhaud,
Die Prinzessin auf der Erbse
by Ernst Toch,
Hin und Zurück
by Paul Hindemith and the
Mahogonny-Songspiel
by Kurt Weill) form a snapshot of Europe between the wars, a time of fearless theatrical and musical experimentation before the rise of Naziism labeled these innovations as
entartete
or "degenerate." Paul Curran's production presents these diminutive operas as exhibits in a debate on the nature of art. Each work was introduced by a member of the cast, putting the operas--or exhibits--in their historical and visual context. Like most exhibits of modern art, some of it worked and some of it didn't.
Milhaud retells the infamous sexual encounter between the nymph Europa (Maeve Höglund) and the god Jupiter, here disguised as a bull in just eight minutes. The composer  pulls no punches in depicting the forbidden (and somewhat tasteless) pleasures of taurine love with a chorus that moos, moving herd-like through the gallery space. As this is Greek myth, there are terrible consequences for the leading man--played here by baritone Michael Mayes. This slight fare was performed in front of a huge painting:
Fist/Pugno
by artist (and production designer) George Baselitz, underlining the connection between operatic performance and visual art.
Milhaud, Hindemith and Weill are all well-known (or at least somewhat familiar) to music lovers. Ernst Toch is more of an enigma, a  Here, his sharp-witted setting of the fairy-tale  
The Princess and the Pea
was presented as a heavy metaphor for America's current obsession with reality television and artificial celebrity. Ms. Höglund played the vegetable-sensitive heroine as one of the ubiquitous Kardashian sisters, complete with a tight vocal technique and video footage that payed careful attention to her fundament as she climbed the sky-high stack of mattresses.
This gaudily entertaining show made one wish that Toch had written a better (and longer) work--as it had excellent comic opportunities for artists like veteran soprano Helen Donath. (These performances mark the former leading lady's return to the New York stage after a long absence. Once more, Mr. Montenegro played the suitor, this time as the latest in a long line of Kardashian conquests. At the end of the work, the pea in question was placed under glass--another component of the ever-expanding connection between visual art and music drama.
Matters improved considerably in the second half, which opened with Hindemith's innovative
Hin und Zurück
("There and Back.") This opera takes place in just twelve minutes: an ordinary couple over a breakfast table where the consumption of eggs and coffee are interrupted by birthday gifts, jealous rage, death threats, murder, corpse removal and ultimately suicide--all shown in live black-and-white simulcast on the walls of the set from a tiny
trompe-l'oeil
 kitchen set.
And then Andy Warhol walked onstage.
It might be laying it on a little thick to have Mr. Montenegro show up as the father of New York's 1960s pop art explosion, but there it was. Andy (listed in the playbill as "A Wise Man") then proceeded to make time run backwards. Tenor Matthew Tuell and Ms. Höglund engaged in reversing the suicide, returning the corpse, undoing the murder, withdrawing the death threats all the way back to the coffee, with the entire action running backward to Hindemith's inventive, retrograde music. This was inventive stuff and well-executed, but best filed under "clever" than "good."
Both of those adjectives applied to the evening's finale, a rollicking version of the
Mahagonny Songspiel
introduced by Ms. Donath (who also took the part of Jesse). Playing the
grand dame
proved ideal for Ms. Donath, as her introduction threatened to outshine the execution of the opera itself. Wrapped in a frock, heavy jewelry and a truly outrageous flapper hat, she spooled off in a long colorful introduction and engaged in some shtick with a
faux
fox fur and a random audience member. (That member could be recognized as baritone Kevin Burdette, currently appealing at the Met.) Later in the show, another "random" person was brought onstage, tenor Paul Appleby (star of the Met's
Two Boys
) was drawn briefly into the lawless vortex that is the fictional city of Mahagonny. (Mr. Appleby had his pocket picked.)
The
Mahagonny Songspiel
features six numbers that formed the framework for the later
Rise and Fall of the City of Mahagonny.
Here, the songs were given their own distracting "visual arts" components: a set of cheesy projections of New York City and, unaccountably four treadmills. Working models borrowed from a fitness center, these automated devices (listed as a "promissory gift" of GCO music director Neal Goren) aided the small cast in performing complicated choreographed maneuvers while keeping up their respective heart rates. But even this exercise equipment could not distract from the winning combination of cast members: Mr. Montenegro and Mr. Tuell, Mr. Mayes, Ms. Donath and Jennifer Rivera, and bass John Cheek--another fine singer in the twilight years of a long, fine career.