The New York Opera Exchange presents Romeo et Juliette.
by
Ellen Fishbein
, special to
Superconductor.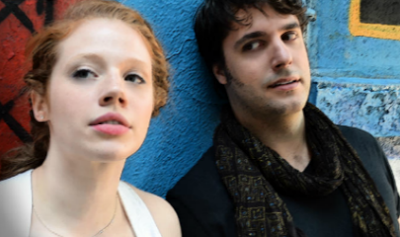 Kendra Berentsen (left) and Scott Ingham star in Romeo et Juliette.
Photo courtesy New York Opera Exchange.
On Sunday evening, the fledgling New York Opera Exchange explored French repertory with a charming production of
Romeo et Juliette
, the five-act adaptation of Shakespeare's play by composer Charles Gounod. The production was mounted at the Unitarian Church of All Souls on Lexington Avenue. Though beautiful, the space was a risky choice: sound resonated freely in the room, but so did  mistakes. A few hiccups in the overture gave way to a consistent performance from the orchestra, which navigated Gounod's delicate dissonances smoothly under conductor David Liebowitz.
For this production, the New York Opera Exchange found good singers, and all the young performers maintained polished professionalism throughout the opera. Gounod's version of the play opens with Mercutio's whimsical ballad of Queen Mab, sung deftly and with charisma by baritone Nicholas Wiggins. This was swiftly followed by Juliette's waltz ("Ah! Je vieux vivre"). Soprano Kendra Berentsen made a fair first impression with this aria, but a constricted stage presence left the audience wanting for a little more carefree abandon. The soprano shone in the balcony scene, welcoming her Romeo onstage. Demonstrating tasteful control over her mid and lower registers, Miss Berentsen blended effortlessly with Scott Ingham's deep, ardent tenor.
In the third act, bass Colin Whiteman as Friar Lawrence surprised the audience with a powerful warmth that suited his priestly role. It was a pleasure to listen to him as the couple wed. Mention must also be made of Sarah Miller, in trousers as the Montague page Stephano. She opened the second half with technical dexterity and a spirited performance. Her vocal agility and pitch-perfect precision seemed to set a tone for the rest of the opera: many of the other singers performed notably better in the secondhalf.
Chief among these was Mr. Ingham, who sang one difficult passage after another with strength andpoise. An aggressive staged fight with Tybalt (Victor Starsky) gave way to a tender scene in Juliette's chambers and then an artful, fast-paced death in the final act. From the second half, the audience will best remember Mr. Ingham and Miss Berentsen's graceful performance of the parting duet that comes before Romeo's exile.
Staged with tasteful minimalism and modern costumes, the production showcased its strong actors. Juliet looked young and playful in jeans and a red cape coat, and Mercutio was endearing in a sweater and scarf. Without a formal set, the church's altar structure transformed seamlessly into a balcony and then a tomb, and though the stage was small, artistic director Justin Werner ensured that it never looked crowded.
In the dim light, some orchestra members seemed out of touch with the conductor at times. In addition, the decision to replace the opening act's traditional masquerade masks with large, unusual hats distracted from the musicians' work. Still, true artistry happened this Sunday, and viewers left with a sense that even in a small church (and on a limited budget) breathtaking opera can – and did – happen.