Read my review of Henry VIII on The Classical Review.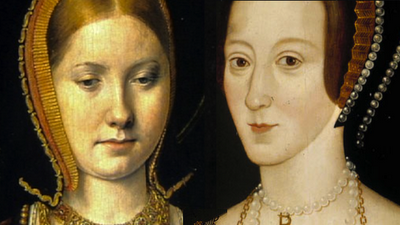 Catherine of Aragon (left) and her lady-in-waiting (and successor) Anne Boleyn.
The two Queens figure prominently in Saint-Saëns' opera Henry VIII.
Photo manipulation by the author. 
Those of you who read this blog know that my writing sometimes appears on sources other than
Superconductor
. That said,
here's a link
to my review of the Camille Saint-Saëns opera  
Henry VIII
, which closed the 2012 Bard Music Festival in regal fashion on Sunday afternoon.
Here's an excerpt, to whet your...axe.
"The jewels in this performance's crown were the two queens: soprano Ellie Dehn as Catherine of Aragon and mezzo Jennifer Holloway as Anne Boleyn. Dehn began as an icy presence, but that facade cracked as the reality of her situation became apparent. She achieved dramatic heights in the final act, with a long aria that recalled the plight of another operatic queen in a similar circumstance: Elisabeth de Valois in Verdi's Don Carlos. "