Ariadne auf Naxos at the Metropolitan Opera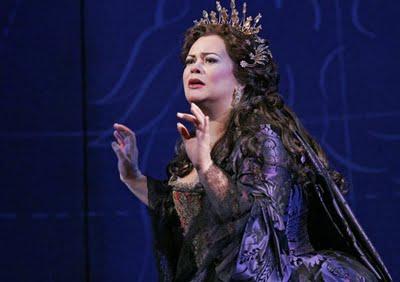 A Princess on the Rocks: Violeta Urmana as Ariadne.
Photo by Marty Sohl © 2005 The Metropolitan Opera
Richard Strauss' opera-within-an-opera
Ariadne auf Naxos
is his shortest comic work, which may account for its repeated presence on the Metropolitan Opera stage. Strauss drafted two different versions of this combination of Greek tragedy and
commedia dell'arte
, loading  it with vocal challenges for the four leading characters. Happily, the Met has assembled a terrific cast for this revival, under the baton of principal guest conductor Fabio Luisi.
Ariadne
has four fearsome leading roles, and the Tuesday night cast matched the composer's exacting requirements. Joyce DiDonato sang the Composer in the opera's Prologue. This was yet another trouser role for the American mezzo, as the Mozart-like author of the
Ariadne
opera who learns that his work will be "improved" upon by the artistic whims of his patron, the unnamed "richest man in Vienna." Ms. DiDonato impressed, adding meaning to each of Strauss' arching phrases, capturing the ecstasy and frenzy of the character in the midst of a creative crisis.
The second half of
Ariadne auf Naxos
features the actual premiere of the Composer's opera of the same title, a
tragoedia interruptus.
Violeta Urmana, who last sang the role at the Met in was strong as Ariadne, bringing a regal bearing, a firmness of tone and a surprisingly wide range to this difficult role. She hit the challenging low note ("Totenreich!") in "Es gibt ein Reich" and rose to an appropriately Straussian apotheosis in the final scene. She also made the most of her "straight man" opportunities, interacting with the harlequin players and never cracking a smile at their antics.
Her Bacchus was American
heldentenor
Robert Dean Smith. It is a well-worn cliché in opera criticism that the difficulty of singing Bacchus proves that Strauss hated tenors, but Mr. Smith made good argument for the musicality of the composer's writing for this vocal range. He brought the right type of voice for this brief but difficult role, applying power when needed and a bright, metallic ring to the big finale when Bacchus rescues Ariadne from her lonely island exile.
The most famous soprano part in
Ariadne
is not the title role, but the
soubrette
Zerbinetta, leader of a merry band of
commedia dell'arte
players who find themselves thrust into the middle of Greek tragedy as a result of their patron's desire to "brighten up" Ariadne's dreary desert isle. Kathleen Kim treated the Met to a revival of her 2010 portrayal, singing a gorgeous duet with Ms DiDonato in the Prologue and flying to dizzy heights in "Grossmachtige Prinzessin," the ten minute
coloratura
workout that brought down the house--twice!
Elijah Moshinsky's production continues to delight the eye with its backstage business in the Prologue and its fanciful set for the island of Naxos, featuring three very long-legged nymphs, twelve feet off the stage in stunning psychedelic ball-gowns. Veteran baritone Thomas Allen was a welcome presence as the Music Master, the hot-headed young Composer's mentor. Tony Stevenson gave a fine character turn as the Dancing Master. Finally, baritone Vasili Ladyuk made the most of Harlekin's brief, melodic little aria which contains one of Strauss' catchiest hooks.