Opera Omnia presents Giasone at Le Poisson Rouge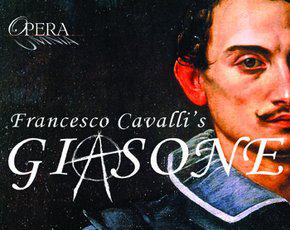 Opera Omnia's poster art for Giasone. Image from Opera Omnia.
The promising Queens-based troupe Opera Omnia ended a three-year silence on Thursday night, with Giasone, the first fully-staged opera of the budding Fall 2011 season. Written in 1649, Francesco Cavalli's opera takes an unlikely comic approach to the myth of Jason and the Argonauts. The fully staged production was sung in English.
Cavalli was one of the most popular of the early Italian opera composers, and this cheerfuly mythology was his most popular work. Leading the Argonauts to recover the Golden Fleece, Jason (Cherry Duke) gets caught between two queens: witchy Medea (Hai-Ting Chinn) and his ex-, good girl Hypsipyle (Katharine Dain.) But unlike most versions of the myth, bloodbath and infanticide are replaced with comic mistaken identity and (failed) murder plots.
These were familiar faces, often seen on New York's smaller opera stages. They were well-chosen for this unfamiliar treatment of the myth. Ms. Chinn was a strong Medea, dominating the room with mesmerizing eyes, a flapper haircut and a pliant, agile voice. Ms. Dain brought a dewy quality to the love-struck Hypsipyle. Cherry Duke, often heard in travesti roles, was a comic, befuddled hero who generated convincing chemistry with both female leads. Sharin Aposolou made the most of her brief opportunities as the maid Alinda, who makes time with Besso (Nathan Baer) another Argonaut.
Each singer was helped by the flattering acoustics of Le Poisson Rouge. The only puzzling element was the inclusion of an old-style condensor microphone, on a stand next to the small orchestra. It was used to make the characters' introductory arias into a series of cabaret-style turns. Puzzlingly, the mic was on, its enhancement clearly audible in some of the numbers. Mr. Singer scorned the mic, and delivered one of the evening's best numbers in the role of the perpetually suicidal Egeus.
As Hercules, bass-baritone Mark Uhlemann strutted a dark, rich instrument and strong diction. Bass Nathan Baer is a less subtle singer. He compensated with good comic timing. Patrick Murray and Isai Jess Muñoz made a memorable Mutt-and-Jeff pair as Orestes and the hunch-backed Demo. In the role of the nurse Delfa, high tenor Karim Sulayman played the part in Max Klinger-style drag with hilarious results.
Crystal Manich's production put firm emphasis on lewd humor and drew inspiration from the Greenwich Village venue. Characters out of myth were in period boho dress. The Argonauts were done up as street toughs with vests, long safety pins and buttons with the Ⓐ symbol and the Batman logo. The Golden Fleece was a fleece-lined denim jacket with a giant Fordham-style ram emblazoned on the back. Medea, Hypsipyle and their handmaidens looked outfitted by the Antique Boutique. Avi Stein led a crisp performance from the seven-piece ensemble, conducting from the harpsichord and occasionally doubling on the portative organ.