City Opera opens its season with Powder Her Face.
by
Paul J. Pelkonen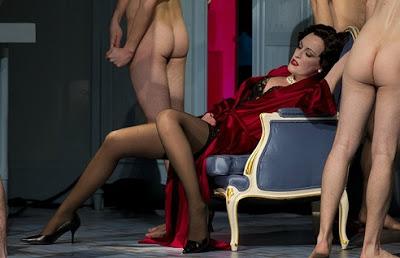 Bangers and buns: Alison Cook as the "Dirty Duchess" in Powder Her Face.
Photo by Carol Rosegg © 2013 The New York City Opera.
The New York City Opera (finally) opened their 2013 season at BAM this weekend with the company's first production of Powder Her Face, the controversial 1995 opera that is the first stage effort of bad-boy British composer Thomas Adès. In keeping with the company's
entrümpelung
philosophy under the stewardship of general manager George Steel, Powder featured a cast,conductor and director all making their City Opera debuts.
This opera is an account of Mrs. Margaret Campbell, the British debutante, socialite (and eventually) the Duchess of Argyll. She lost that title in 1963 when her (very public) divorce was granted for her "perverse and insatiable" behavior, including  reported acts of congress with eighty-eight other men. (This production, in a nod to good taste and the stage limitations of the Howard Gilman Opera House, includes twenty-five naked dudes in the Act I finale.) What really did her in though was a set of Polaroids obtained by her husband, that showed the good lady engaged in sexual acts while still wearing her trademark triple strand of pearls.
Mr. Adès sets these events against a brash, spiky musical fabric that incorporates a wide variety of musical styles. There are liberal references to other 20th century composers (most prominently Richard Strauss and Dmitri Shostakovich.) Jonathan Stockhammer supervised the sometimes unusual orchestral and percussive sounds emanating from the pit. Although
Powder
earned a BBC ban for his graphic Act I portrayal of oral sex, (a half-hummed, half-sung number) but Strauss wrote better simulated sex in his Viennese comedies.
The most exciting thing about Sunday's performance was the chance to hear a strong cast in roles that mark their City Opera debuts. They were led by the quicksilver mezzo-soprano of Alison Cook as the Duchess. She navigated through the twists, turns and interval leaps while conveying the sad air of crumbled majesty.  She also proved a consummate actress with a magnetic presence, tackling the role's considerable vocal and physical demands with relish and energy as she guided the viewer into the sleazy, vapid world of the Duchess' carnal pursuits.
In the opera's most (in)famous  scene, our heroine is lounging in her anonymous hotel bedroom. Suddenly, there is a naked man! He appears from under the sheets. Another climbs out of the bathtub. The coat closet. The wings. Suddenly that good lady (who is arduously trying to seduce a bellhop) is surrounded by bored-looking, naked male dancers, representing the Duchess' past and future conquests. It says something for Ms. Cook that she still seizes the audience's attention in the midst of all this pulchritude.
The star was surrounded by a small solar system of budding talents, all of whom took multiple roles. Nili Riemer scraped the top of the soprano range as Mrs. Campbell's maid. Bedecked in a starched uniform and scarlet wig, she was an apt duet partner for tenor William Ferguson. His light, high-lying instrument navigated Mr. Adès' tricksy musical phrases. Another fine tenor, Jon Morris was the cynical and randy hotel waiter. Bass Matt Boehler had a fine, walnut-colored instrument, doubling as the divorce court Judge and as the Hotel Manager in the opera's final scene.
Jay Scheib's production makes clever use of direct-linked video cameras and a balcony-mounted projector to offer a close (and sometimes uncomfortable) perspective of the onstage antics. The wide, flat walls are painted a neutral, institutional green, an ideal
tabula rasa
for Joshua Higgason's live-feed projections. Ash trees, hotel furniture and an onstage car (a current fetish for opera directors) provide the other visual elements. Given City Opera's commitment to offering new shows to its audience,
Powder Her Face
may become the first opera of the George Steel era to be granted a revival.