Gotham Chamber Opera opens with a double bill by Martinů.
by
Paul J. Pelkonen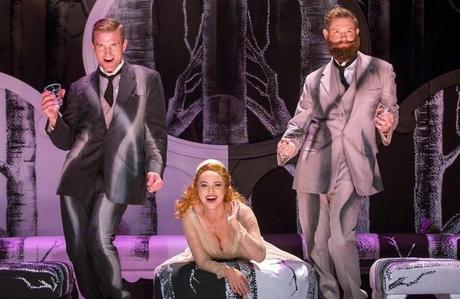 Me and my shadow: Jarett Ott (left) and Joseph Beutel (right) flank Jenna Seladie in Alexandre Bis.
Photo © 2014 Richard Termine, courtesy Gotham Chamber Opera.
On Tuesday night, the maverick Gotham Chamber Opera opened its fourteenth season at the Gerald Lynch Theater. The program: a pair of operas by Czech composer Bohuslav Martinů. Alexandre Bis (1937) and Comedy on the Bridge (1935) were written in those turbulent years before Nazi Germany marched troops into the relatively new nation of Czechoslovakia, an event which would force Martinů himself to escape, first to France and then to America in 1941. These 
one-act comedies 
burn with a nervous comic energy, reacting to the insanity of the 1930s with bursts of absurd humor. Under Neal Goren's baton, Martinů's excellent qualities as a composer came to the fore, giving New Yorkers a new appreciation of this composer.
The production, directed by James Marvel with scenery by Derek Anderson, set both operas on a black and-white acting surface. The actors moved on a walkway in black-and-white costumes, against a patterned background of trees that served as an ideal palette for the lighting design.
Alexandre Bis
featured a half-black half-white living room, with alternating
chiaroscuro
furniture placed against its opposite background. The set was stripped to form the bridge for the second opera, guarded by soldiers with bayonets and beards--one in black tunic with a white beard, his enemy in white with a black beard.
Facial hair, or the lack thereof was at the center of
Alexandre Bis
("Alexander Again".) This French-language opera is the story of a
bourgeois gentilhomme
who tests his wife's fidelity by shaving off his whiskers and posing as his own American cousin from Texas. This strange little domestic comedy owes something to the frenzied backstage Prologue of Strauss'
Ariadne
, with its propulsive sense of rhythm, neo-classical orchestration, rapid fire dialog and occasional lapses into spoken dialog.
The cast displayed sharp comic timing and a willingness to take risks in these oddball operas. Jenna Seladie displayed a glamorous stage presence and bright tone as Armande, wife of Alexandre and victim of his jealousy. As Alexandre, tenor Jarrett Ott used his agile voice and gangling physicality to play both the stiff-necked Alexandre and the loopy Texan with gusto.
Baritone Joseph Beutel was strong in the surreal comic role of a portrait of the (still-bearded) Alexandre. The man in the painting sings and interacts with the characters, and (in a concluding dream sequence) comes to life and murders his own
doppelgänger
. The cast was filled out  by Jason Slayden as Oskar, the penny-farthing riding boy toy who catches Armande's eye and Cassandre Zoe Velasco as the pert maid Philomène, two stock characters straight out of
Fledermaus.
Like
Cosi fan tutte,
this first opera ended on a question mark. The crackle of unresolved romance became the nervous energ that drove 
Comedy on the Bridge
. Popelka is a village girl (Ms. Siladie) visits an enemy encampment on the far side of a river. A safe-conduct pass allows her onto a bridge over a river,, but she finds herself trapped on the bridge when it turns out that the pass will not allow her past the guard on the other side. This absurd comedy deals with the madness of war. Eventually, five villagers find themselves trapped between bearded, bayonet-wielding guards whose only difference is the reversed colours of their uniforms...and their beards.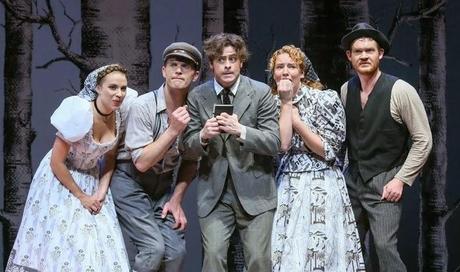 The cast of Comedy on the Bridge (Jenna Siladie, Jarrett Ott, Jason Slayden, Abagail Fischer, James Beutel.)
Photo © 2014 Richard Termine, courtesy Gotham Chamber Opera.
Ms. Siladie sang Popelka with the same prettiness of phrase, slipping easily into the tricky Czech dialog. Mr. Beutel, tricked out to resemble Art Carney on
The Honeymooners
) was the lecherous hops farmer Bedron, and Mr. Ott as Sykos, the girl's jealous fiancée. This unhappy trio was eventually joined by Eva Bedron (Abagail Fischer), out to catch her philandering husband, and Ucitel (Mr. Slayden),  an addled schoolmaster whose near-unsolvable riddle proves an apt metaphor for the unlucky travelers stuck on the bridge.
If the jealousy and love-games of 
Alexandre Bis
 are an update of
Cosí fan tutte
,
Comedy on the Bridge
bears some similarity to
The Magic Flute.
.The guards' constant cry of "Vrátit se!" resemble the "Zurück!" of Mozart's priests or the warnings of the Two Armed Men. The situation of two couples and a sort of wise man (the schoolmaster) on a quest to move forward has some similarity as well. But the key comparator is both scores' use of quicksilver orchestration and repetition of nonsense syllables. In this comic work, Martinů has a serious point to make, even as he gives these strange wartime events the feeling of bizarre ritual. In any case, this was an entertaining and occasionally hilarious performance by this game and energetic cast.