She slept with 88 men...and had the Polaroids to prove it.
by
Paul J. Pelkonen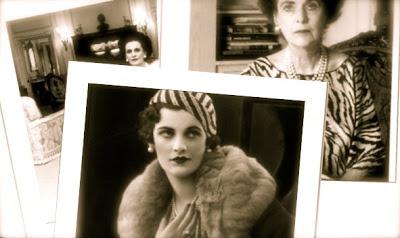 Three views of Margaret Campbell, the "Dirty Duchess."
Photo montage by the author, who no longer owns a Polaroid.
The
New York City Opera
is back, once again operating a short split season with performances at BAM and City Center.  On Friday night, the company kicks off its 2013 season with Thomas Adés'
Powder Her Face
, a saucy English opera from 1995 that takes on the scandalous subject of Margaret Campbell, the Duchess of Argyll.
Known in the British tabloids as the "dirty Duchess", Mrs. Campbell hit the headlines when her 1963 divorce erupted in the courts as her husband brought forth accusations of infidelities with eighty-eight other lovers and a set of naked Polaroids including one of the Duchess engaged in oral congress with a "headless" man who might have been a son-in-law of Winston Churchill. To be fair, the Polaroids featured Mrs. Campbell still wearing her signature triple strand of pearls.
Anyone who saw the Met's first production of Adés'
The Tempest
(last October,
review here
) knows that this composer likes to make life difficult for his singers. This wilfully eclectic score incorporates the soundtrack of the 20th century to the operatic stage, with allusions to house music, tango and cabaret. (The score also includes a notorious musical depiction of Mrs. Campbell's activities, which was enough to cancel a live broadcast on the British FM radio network.)
Mezzo-soprano Alison Cook rises to the physical and vocal challenges of the title role. She will be aided by a strong supporting cast that includes tenor William Ferguson and coloratura soprano Nili Riemer in the key role of the Maid.
Jay Scheib's new production doesn't skimp on the sex and scandal, as the show will apparently include full-frontal nudity and twenty-five naked men on stage. (The limits of the Howard Gilman Opera House's stage will not allow the full eighty-eight.) Conductor Jonathan Stockhammer makes his City Opera debut, leading Mr. Adés' demanding, wry and occasionally jagged music.
Powder Her Face
opens Feb. 15 at the Brooklyn Academy of Music's Howard Gilman Opera House
Recording Recommendation: 
Mr. Adés was fortunate enough to have premiered Powder Her Face in 1995, an era when record companies were still regularly issuing recordings of exciting new operas. So there's a complete set of this work available on EMI. Jill Gómez takes the title role, supplanted by a strong cast that lends vitality to the proceedings. The composer conducts.