It may be curtains for New York City Opera.
by Paul J. Pelkonen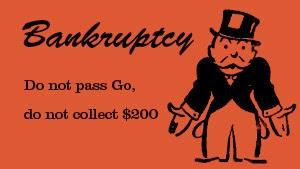 The City Opera may cease operations and declare bankruptcy next week.
Like Anna Nicole Smith, the subject of what
may be the final opera
produced by the New York City Opera this season, the New York City Opera is in dire need of a sugar daddy to save the company.
Unfortunately, J. Howard Marshall. the oil billionaire who married the Texas Playboy bunny and stripper (played by Robert Brubaker in the opera
Anna Nicole
) is dead. That much is certain.
In an e-mailed fundraising letter received today by
Superconductor
, NYCO general manager George Steel revealed that the company's board of directors has voted to begin bankruptcy proceedings if its fundraising goals are not met in the next four days. This means that City Opera would be canceling its planned 2014 spring season, and might go dark permanently.
That also means that Saturday night's final performance of
Anna Nicole
 at BAM could be the company's swan song.
The letter, reproduced below, does not tell the whole story.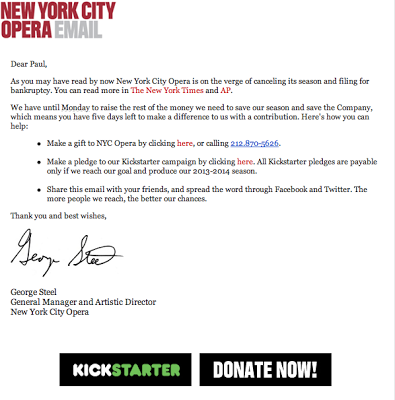 The City Opera is in need of $20 million in funds to continue operations this season. Their immediate financial needs for the month of September are $7 million, presumably the cost of mounting
Anna Nicole
as part of the BAM NextWave Festival. The opera house has tried to raise $1 million of that amount through a KickStarter campaign, and has so far accumulated $126,078.
This site has written elsewhere about the troubled history of the 70-year old City Opera in this new millennium, a tale of mismanagement, poor repertory decisions, failed marketing strategies and the decision to jump ship from Lincoln Center a few years ago--reinventing itself as a leaner, fitter operation that made some interesting repertory decisions but seemed ultimately lacking in identity.
Time will tell if City Opera can stage the most remarkable comeback since Siegfried's dead hand lifted the Ring of the Nibelung into the air. Stay tuned to
Superconductor
as this story develops.