It's no secret that we are big fans of the folks over at Open Road Recordings from the behind the scenes people like Ron, Denny, Lindsay, Mitch as well as the amazing roster of talent. The list of talent that includes the likes of Tim Hicks, Madeline Merlo, River Town Saints, Doc Walker, The Hunter Brothers, Blackjack Billy, The Road Hammers and Dean Brody. It was a great way to kick off a Friday afternoon during CCMA Week in London.
Great setting with some great performances here are a few images from the afternoon.
We want to thank ORR for the invite it was a fantastic way to spend a Friday afternoon. Amazing performances and getting to catch up with folks like Phil Barton and John Marks was fantastic. Also a huge thanks to our photographers Bill and James for making the trek up to capture some of the performances. We can't wait till next year in Saskatoon!
Corey Kelly / @CoreyKelly76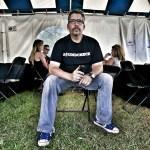 Born and raised in small ltown Ontario, Love me some Whisky & Country Music. Blogger, Photographer and Country Music Junkie.