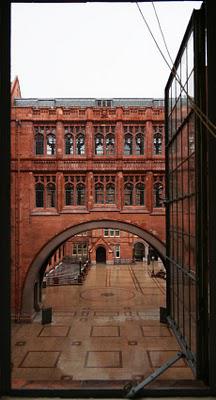 An extravagant, enormous piece of Victoriana, the Prudential Building sits at the eastern end of High Holborn. While Prudence stands on the facade holding her mirror, there is little evidence of prudent restraint elsewhere in the building.
While my exploration of the courtyards with their fine war memorials was curtailed by heavy rain, the interior was generously open for us to wander at will. Now a corporate venue known officially as Holborn Bars, the building retains many magnificent original features from the exuberant tiling to the vast and imposing safe doors. These once led into the muniment room where deeds and securities were stored.
If all of this seems excessive, ponder the incredible fact that in 1905, one-third of the population was insured by the Pru.