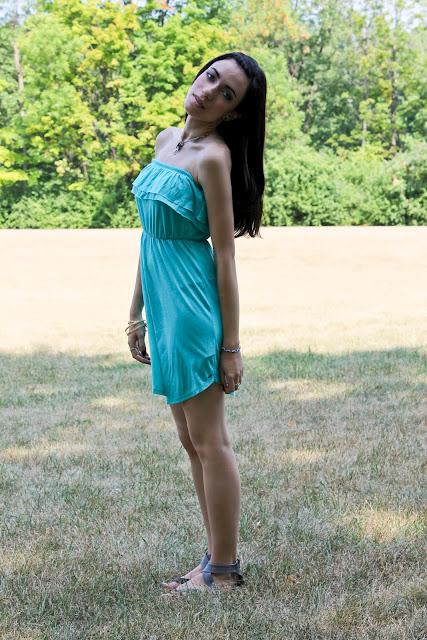 I've bought this dress at Garage right in early summer, and didn't got the chance to wear it until just now. I thought I don't have a good enough reason to wear it.. I mean, I thought I could only wear it to some special occasions or like for going out or something special like that, since it is so pretty! You know what I mean?.. But this is a pretty common mistake I make a lot of the times.. That I think "this outfit is too pretty to wear it out just on a regular day".. And then it ends up laying in my closet all the season and I don't wear it. So I've decided to stop with that and start wearing pretty clothes I have, just because! :) No one said dressing up without a reason is bad ;)
So to make this pretty dress look a little less fancy, I paired it with my flat sandals and a little braided bangs :) The look reminded me of like a Greek goddess or something, so to complete it, I wore my gold bracelets, which complemented a lot the teal color of the dress!
I matched my eye makeup to the color of the dress, with a little bit of darker brown on the crease (which unintentionally matched my nail as well :P).
Dress: Garage
Shoes: Marko
Necklace: DIY - made by me
Braid bracelet: DIY - made by me
Gold bracelets: Moroccan bracelets (a gift from my grandma)
Earrings: Pull And Bear
Nails: Essie in "Little Brown Dress"