Today is one of those ohhh my shizz I have so much to do days.The purchasing of this dress is down to several weaknesses, one being DollyBowBow's Primark Haul and another LLYMRS' beautiful skirt.
Sitting and knowing these beautiful bits were in Primark resulted in a trip-and with the weather this week I felt I owed it to myself to pick up some key pieces in order to be ready for spring.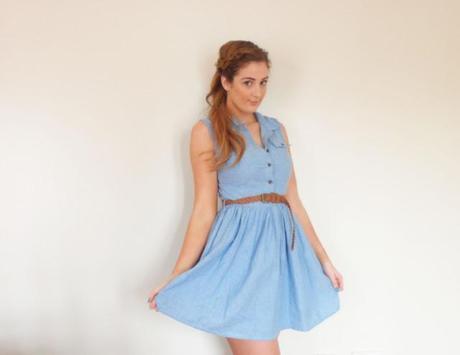 I love this dress.This is another of those transitional pieces, some wedges a bit of eyeliner and hell even a bandanna could retro up this dress to a whole other level and get you in gear for the evening.Its denim-looking but it actually a lightweight cotton.I love that its sleeveless and the button detailing. I'm not overly crazy about the belt but it'll do till I get round to picking up something I prefer.
The length of the dress is just above the knee, I am however 5"9 so it could come up a lot longer on you shorter ladies. The skirt pleats out a little making it super feminine.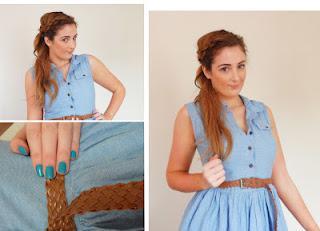 My hair is just kinda 'meh' today but I do like how a plait can make you come over all girly.I have my beloved Rimmel Nail Varnish (Sky High) I am a little obsessed with this greeny color at the moment.
Oh and the good bit this dress is £10 from Primarkand I literally picked it up Wednesday so get yourself down there.
I'm still considering doing a haul on the other bits I got, anyone like to see?Wishing you all a fabulous weekend!