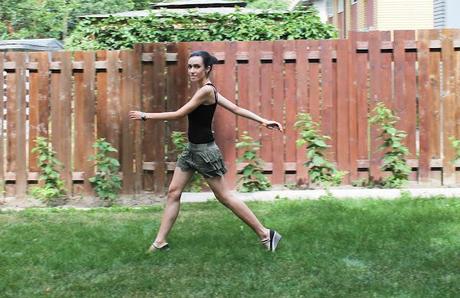 I came up with this outfit while finding this cute skirt in my closet and realizing I haven't worn it in like two years (and actually wore it only once or twice), and I wanted to keep it very clean and classic, so I paired it with a simple black tank top and black and white wedges. To not leave the top looking too boring, I wore my long mirror necklace. The whole look reminded me of a dark ballerina, so I completed it with a bun on my hair! :) Loved how it turned out! Very clean and simple, but yet elegant and very comfortable!
I lined my eyes with a very black dramatic winged liner for a cat eye effect, a little bit of bronzer, and nude lips (to not draw the attention from the eyes) :).
Top: Unknown
Skirt: Bazooka
Wedges: Keds Midnight Mary Jane Wedges
Stones bracelet: Forever21
Braided bracelet: DIY by me
Necklace: Diva
Nails: Nails Inc. London in "Wellington Square"