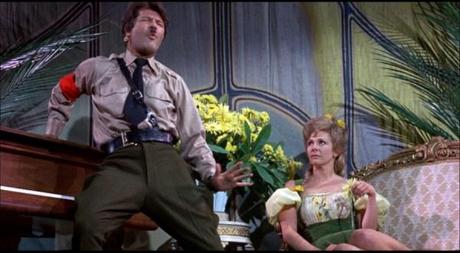 I love writing songs. I'm a songwriter – Mel Brooks
Mel Brooks was writing songs long before he reinvented himself as a Broadway producer in one of show business' great third acts. Although the move from parody film writer-director-actor to Broadway producer may seem unlikely at first glance, Brooks' debut film, The Producers, was, of course, about Broadway and most of his films have contained at least one original song or choreographed grand musical number.
Brooks' humor is crude and simplistic, mostly comprised of obvious parodies, puns and penis jokes. But Brooks has always been musical, and music is an essential part of his formula.
The first thing that comes into my head is a character, a crazy character, a desperate character, an insane character. That character would then motivate the story and other characters. As soon as he motivates the story and other characters, then three, I begin to hear the music. Music comes third. . .so it's very important.
In fact, before his career as a stand up comedian and television comedy writer, Brooks worked the Jewish nightclubs in the Catskills as a drummer, an instrument he first learned to play from the great jazz master Buddy Rich.
Despite the off-the-cuff casualness of many of Brooks' silliest films, he is a dedicated craftsman and this carries over into his overseeing of the music in his films.
I'm at every recording session and I listen to every note. You see, I know that I'm going to be dead and it's going to be there after me. Those little notes are etched into my tombstone and I want to make sure that they are perfect. I don't mind spending an hour getting a 30-second cue perfect.
In 2001, Brooks took Broadway by storm with a stage adaptation of his film debut, The Producers. Young Frankenstein followed in 2007, with a teaser in the final number suggesting a Blazing Saddles musical may be next. But Brooks has included musical numbers in his films from the beginning. Here's a list of the top ten musical moments in Mel Brooks' films.
10.  Robin Hood: Men in Tights – "The Night Is Young and You're So Beautiful"
Robin Hood: Men in Tights is not a particularly great movie – nowhere near the level of Brooks' classic earlier works – but there is a certain charm about it. Fresh on the heels of the Kevin Costner blockbuster Robin Hood: Prince of Thieves, Brooks cast his satirical eye on the Robin Hood legend. In this scene, Robin (Cary Elwes) serenades Maid Marian (Amy Yasbeck) while the merry men watch on unbeknownst to the crooning, wooing lovers. The song is not a Brooks original, but was written by Dana Suesse, Billy Rose and Irving Kahal in 1937 and has been recorded by the likes of Dean Martin and Mario Lanza, whose powerhouse vocal delivery is parodied here.
9.  History of the World, Part I – "Jews In Space"
If you never watched the full closing credits to Brooks' 1981 History of the World, Part I you would have missed "Jews in Space" altogether. The song appears as a teaser for the fictional sequel History of the World, Part II. Oddly enough, when Brooks finally did make his movie about Jews in space, 1987's Spaceballs, he did not use this song, nor did he compose any original songs or include any musical numbers (short of the alien dancing on the counter to "Hello! Ma Baby" for a brief few seconds).
8.  Blazing Saddles – "The French Mistake"
One of Mel Brooks' signature gags is to break the fourth wall. Here, he does so literally as the cast of Blazing Saddles comes crashing through the studio wall into a "closed set" where the inimitable Dom DeLuise is trying to teach a chorus of gay male dancers the proper chorography for the Busby Berkeley-inspired musical number he is directing, "The French Mistake." Hilarity – and a full on brawl of cowboys versus gay chorus – ensues. Who knew the increasingly portly DeLuise was once so nimble?
7.  Silent Movie – "Silent Movie March"
There isn't one particularly notable musical moment from Silent Movie, but rather the entirety of the score itself. Composed by John Morris (who would score all of Brooks' films save for the final two) the 87-minute, wall-to-wall score is an impressive achievement. Morris' score lacks the subtle romance of, say, Charlie Chaplin's best scores, but it is the over the top silliness that makes it work. That is the Mel Brooks ethos, after all. And there is still plenty of heart. Morris creates a leitmotiv for Burt Reynolds to emphasize his enormous stardom, and there is a slower, more soulful, theme to accompany the conflict in the film. For the main theme, however, Morris envisioned "innocent joy."
Let me create a march that these three guys would have…their march through Hollywood to get the money to save the studio. I see it as a march. - John Morris
6.  The Producers – "Prisoners of Love"
Alluding to, perhaps, but not to be confused with the similarly titled "Prisoner of Love" written by Russ Columbo, Clarence Gaskill and Leo Robin and first popularized by Billy Eckstine, "Prisoners of Love" is a Mel Brooks original song used over the closing credits of his debut film, The Producers. After Bialystock and Bloom's ingenious scheme to defraud investors implodes, they find themselves in prison where they quickly begin production on a new property: Prisoners of Love. And of course they fall right back into their old trick of overselling shares. Even the warden wants a piece: "Tell him he owns 50% of the show."
5.  Blazing Saddles – "I'm Tired"
Brooks regular Madeline Kahn, here as Lili von Shtupp, "The Teutonic Titwillow," delivers this Brooks-penned, single entendre-laced song about a frontier town prostitute's fatigue in the vein of a Marlene Dietrich cabaret number.
Stagecoach johnnies constantly suwwound me
they always hound me
with one reqwest
Who can satisfy their lustful habit?
I'm not a wabbit!
I need some west!
4.  Young Frankenstein – "Puttin' On the Ritz"
Brooks considers the main theme from John Morris' score to Young Frankenstein to be "one of the greatest themes ever written for the movies," but the film's most famous musical sequence involves Gene Wilder and Peter Boyle performing Irving Berlin's classic "Puttin' On the Ritz." The idea was Wilder's, and Brooks was initially apprehensive about including the incongruous number in the film.
I fought him desperately and I said, 'It's going to cheapen the film and it's going to be silly…' He said, 'No it's good, it's crazy and funny. It's a demonstration of the monster's agility, doing a buck and wing tapping.' I said, 'All right! What the hell.'
3.  History of the World, Part I – "The Spanish Inquisition"
Only Mel Brooks, with his knack for infusing musical absurdity into tragedy, could conceive of retelling the story of the Spanish Inquisition Busby Berkeley style, with an elaborately staged and choreographed eight-and-a-half minute musical number, complete with synchronized swimming, water torturing nuns. Look for Jackie Mason and Ronny Graham in cameos as torture prisoners and Orson Welles as narrator. Torquemada? "Let's face it, you can't Torquemada anything."
2. High Anxiety – "High Anxiety"
High Anxiety, Brooks' 1977 Alfred Hitchcock parody/homage just may be his masterpiece. As with Hitchcock films, every bit part character is played to perfection by a cast that  includes Madeline Kahn, Cloris Leachman, Ron Carey and Barry Levinson, who steals the film with his famous newspaper bellboy shower scene bit. Regarding that shower scene, which is a parody of the infamous scene from Psycho, Brooks and composer John Morris deliberately left out the famous screeching, staccato violin score which has become so ingrained in the public consciousness.
It was already a cliché. We didn't want to take away from all the visual jokes. We didn't want to steal Barry Levinson's great line. "Here's your paper, here's your paper! Happy now? Happy?"
Brooks is right, of course. Levinson's voice shrieks and wails his great "newspaper" line on an even pitch with the Psycho strings. Music would have ruined its alluding effect; it is already musical.
Brooks composed an original song, which he performs in the film with false modesty, in a hotel bar. Brooks delivers a not-too-subtle but not-too-obvious Frank Sinatra impression as he sings, slinging the microphone chord over his shoulder as the Chairman used to do with his overcoat and spicing up the delivery with adlibbed phrases – "ooo-xiety," "hey-xiety" and the call for a "key change!"
Unfortunately the scene from the film is not available online, but the song is so well written and arranged it stands on its own. Here is a clip of the record featuring Brooks' vocal.
1.  The Producers – "Springtime For Hitler"
The song that started it all remains Mel Brooks' most memorable musical moment. If it sounds like the worst idea imaginable – a Broadway musical entitled Springtime for Hitler: A Gay Romp with Adolf and Eva at Berchtesgaden with an elaborate opening number title song complete with goosesteping chorus girls – that's because it was meant to be. The plot to Brooks' debut film, The Producers is simple: create a show that is guaranteed to be a flop, oversell shares to unsuspecting investors and laugh all the way to the bank when the show closes after opening night. But Bialystock and Bloom's mistake was in misjudging the atmosphere of the experimental late 1960's. By casting a burnout beatnik to play Hitler (played in the film by Dick Shawn in a brilliant scene-stealing performance), the two producers unwittingly created a farcical masterpiece. The show was a smash.
Brooks had written "Springtime for Hitler" before he had a film in which to place it. He wrote The Producers around the song, knowing it was the worst possible idea for a hit tune. Composer John Morris orchestrated Brooks' melody into the main theme. This one song launched the film The Producers, which launched Brooks' career as a filmmaker, and its odd commercial power continued well into the next century, launching Brooks' career as an actual Broadway writer and producer. Who'd a thought?
Springtime for Hitler and Germany
Deutschland is happy and gay
We're marching to a faster pace
Look out, here comes the Master Race
Springtime for Hitler and Germany
Winter for Poland and France
Springtime for Hitler and Germany
Come on Germans, go into your dance.