Ukoy (pronounced "ooh koi") is a Filipino fritter usually made with leftover vegetables and shrimp topped with a garlic vinegar dipping sauce. Usually served from a cart by a street vendor, it's known as a snack food. This dish is the tastiest way to clean out the fridge and is always a welcomed appetizer around my table. It's easy to pull off; the preparation is the only time-consuming factor. With Ukoy, it's all about the knife skills. The vegetables need to be cut super thin (matchstick and julienne styles) in order to ensure even frying and superior crunch factor. There are a thousand and one different ways to prepare Ukoy. The ingredients I'm using in today's recipe are leftovers from my fridge with an added on-sale bonus from the Seafood Department at my local grocer. Other ingredients great for this dish include: sweet potato, snow peas, leek, squash and corn. Normally Ukoy contains more veggies than meat..but I served this as a side dish at my Lolo's (grandfather's) 75th birthday dinner so I added extra meat for a special treat! I also made 20... which isn't really normal either.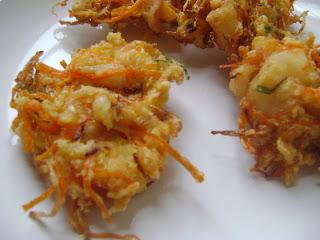 Ingredient Roll:
1/2 Shrimp per fritter - I used jumbo deshelled shrimp. The authentic version uses smaller Bay-sized shrimp with the shell on. When fried, the shell becomes as crispy and delicious as the rest of the fritter.

4 lobster tails (totally not necessary - however, this was a special occasion.. and it was on sale) or add double the vegetables.




1 package of bean sprouts - rinsed

1/4 Napa cabbage -chopped

2 carrots - peeled and julienned

1 bunch of green onions - cut into matchsticks




1 cup flour (rice flour is a better option)

1 tsp. baking powder

1/4 tsp. salt

1 egg

1 tbs. fish sauce

2 handfuls of Panko bread crumbs

oil for deep frying (peanut oil would be best)




1/2 cup white vinegar

2 garlic cloves -smashed

1tbs. rice wine vinegar

cracked black pepper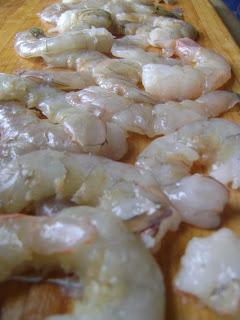 De-vein and slice your shrimp in half lengthwise.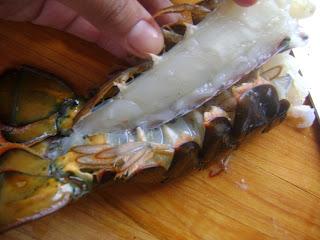 Slice the lobster tails in half lengthwise, cutting from the base of the tail to the opposite end. Begin by setting the tip of your chef's knife into the first nook in the tails' base so your knife won't slip. Then firmly slice down the back of the tail. Now pull the two halves apart.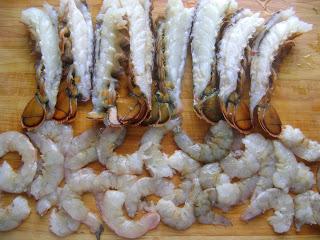 This is how your seafood should look so far.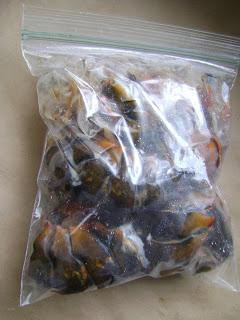 Pick the lobster from its shell. *Be sure to save all shrimp and lobster shells in a plastic freezer bag. This will make for a nice seafood stock base for another day. Just gently boil, then simmer the contents of the pack in a pot with water.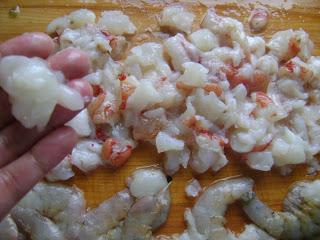 Chop the lobster into bite sized pieces. Set the seafood in a bowl and allow it to marinate in its own juices in the fridge while you prepare your veggies.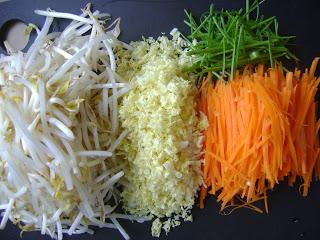 Dry your bean sprouts and cut your veggies. (Nice and even!  Take the time to make attractive thin cuts.)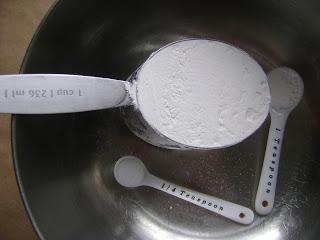 Mix your dry ingredients together (flour, baking powder and salt).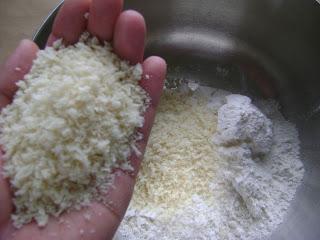 Now add two small handfuls of Panko bread crumbs. Most recipes don't call for bread crumbs but I needed a heavier binder due to the weight of the lobster meat.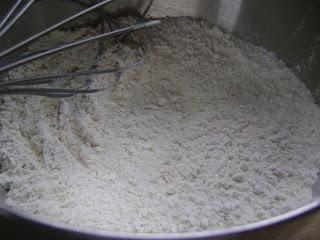 Mix mix mix.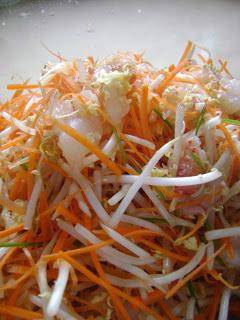 Toss your veggies and lobster in a large bowl with the fish sauce.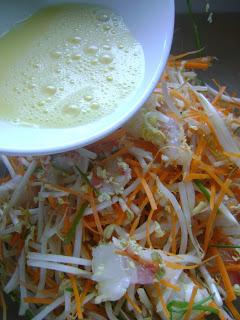 Scramble one egg and toss it into your veggie mixture.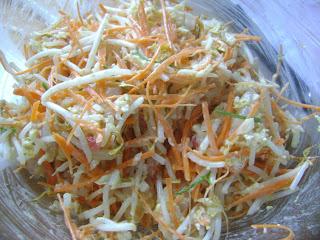 Slowly add your dry mixture to your veggies. Toss everything together until it's all well incorporated. The batter will be sticky. Heat your frying oil ( at least 3 inches deep) in a wok on medium heat.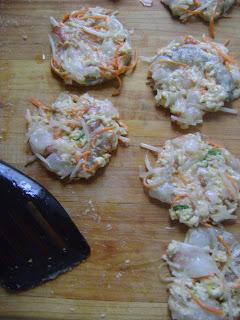 Scoop a ball of Ukoy mixture into your palm and pack a patty, adding one shrimp half per patty.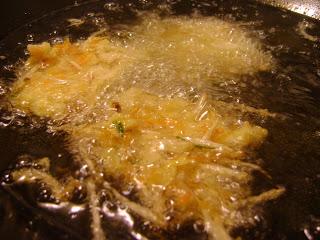 Deep fry the fritters until golden brown and crispy on the edges. 30 second to a minute on each side. Don't fry for too long - over cooked shrimp and lobster are terrible and rubbery.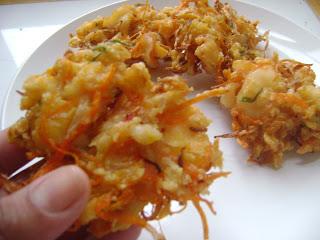 OOOOOH Ukoy... light, crispy and oh so delicious.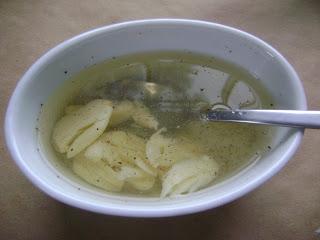 On the side, serve a vinegar dipping sauce. Mix the vinegars, garlic and a few turns of cracked black pepper. Spoon a bit onto your fritter and enjoy. My mouth is watering just writing about it!