Okay. I know. It's official. I'm the worst blogger ever. But I've been a busy lady!
Here's the rundown of the last six months: Ignacio and I moved out of our shabby apartment, I got out of the shabby bar business, we're engaged to be wed (shiny ring included), and are now expecting our first child, a  baby girl, this September! Hooray, my life is awesome! Now I know I've been on quite the blogging hiatus but imagine all of the doors this opens up for us, people. I'm about to become the craftiest mother alive! Food, babies, weddings, photos, crafts and lifehacks all on one blog!? I'm practically a walking, talking Pinterest!For my first post back we'll start off with an easy recipe I developed for my brother who recently broke his jaw (which means no solid foods for six weeks - womp womp). So today for lunch we had Pureed Black Bean Soup with a Creamy Cilantro Lime Dollop. It's easy, cheap, healthy, quick, and deliciously filling. This is a great hearty summer dish to add to your rotation. It doesn't need to be served piping hot and is topped with a cool sour cream topping so it's nice and refreshing even in the dog days.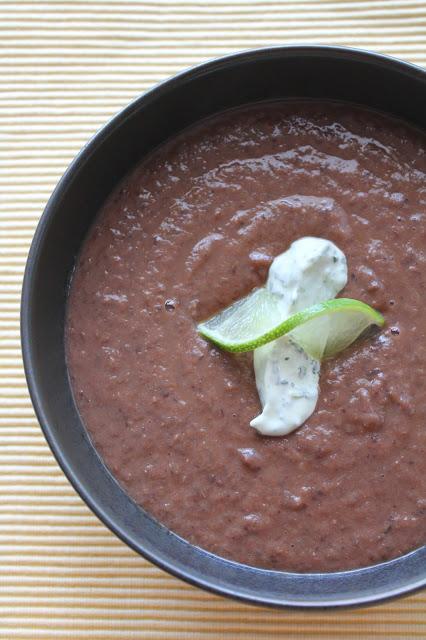 Here's what you'll need:
For Soup:
4 cans of black beans 

2 cans of diced tomatoes 

About 1 pound of bacon or fatty ham (I used leftover Jamon Serrano carved from a leg)

2 medium yellow onions

6 cloves of garlic

About 1/2 carton of chicken stock

2 Bay Leaves

2 Tsp. Cumin

2 Tsp. Paprika

4 Tbs. Hot Sauce of choice ( I used Pain is Good. Sriracha Pepper Sauce)

4 Tbs. Steak sauce (I used Lea & Perrins Steak Sauce)
For Topping:
Juice of 1/2 lime

1/2 cup sour cream

chopped cilantro (1 bunch fresh or 1 tube if fresh is not available)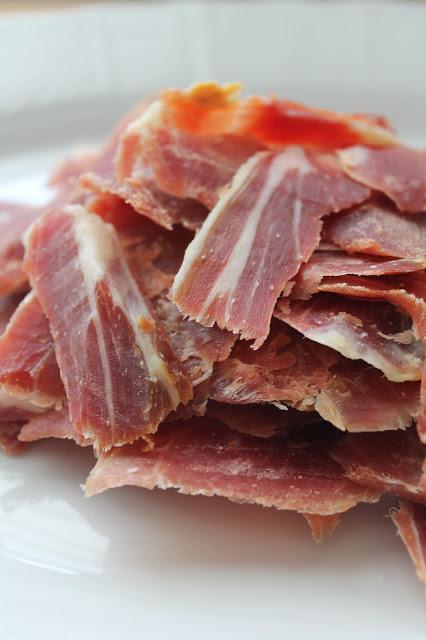 Start by chopping your raw bacon or cured ham and picking a large pot for your soup. I'm using a large cast iron pot.
 If you're using bacon: cook the bacon in your pot over medium-low heat until the bacon is just cooked through. The chopped pieces will look translucent and even rubbery. We've now drawn out the fat (better known as the super awesome flavor power).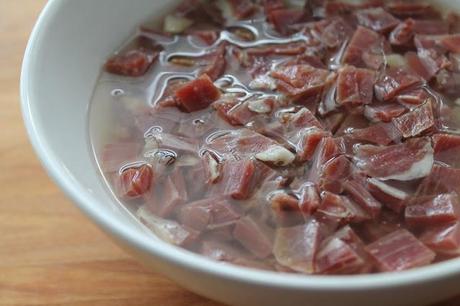 *Now Preggies like myself are, among other dietary restrictions, discouraged from eating cured meats UNLESS (or so I've heard) they are cooked through at high temperatures, ridding the meat of any potential ickiness that may lead to food borne illness. If you are expecting and weirding out about the rules then use bacon or cooked ham instead. Do not listen to me by any means -  I am not a doctor. Do what you think is right.*
Moving along: if you use cured meat, try to "reconstitute" the meat in a bowl with chicken stock. The Jamon can dry out a bit over time so I poured in just enough stock to cover the pieces, then I covered the bowl with plastic wrap and let it hang out for about 10 minutes.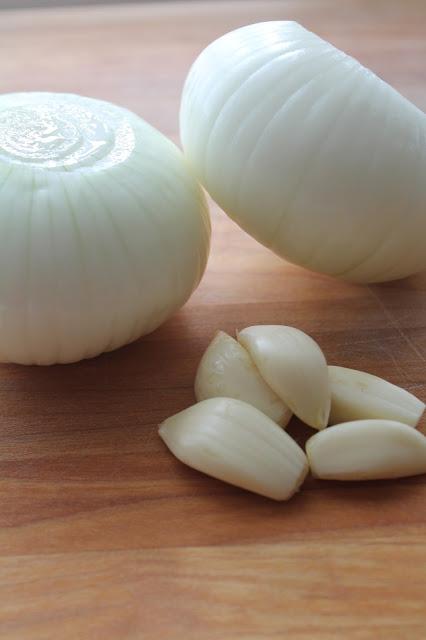 If you're using Jamon, add the marinating meat and stock mixture to your pot and simmer on medium low heat until the meat is tender. 
Chop the onions and garlic and add them to the meat in the pot. Sweat the ingredients on low heat until the onions are translucent, about 8-10 minutes.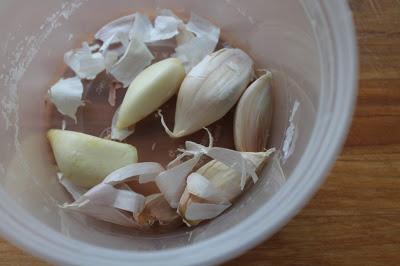 * Here's a trick I like to use when I need to peel multiple cloves of garlic at a time: This does bruise your garlic somewhat, so it's perfect for soups. Otherwise, I'm a stickler for presentation and wouldn't dream of using this technique. First,  I cut off the hard ends of the cloves and drop them into a plastic container, then snap the lid on and shake, shake, shake, and shake some more. It takes about 30 seconds before the garlic is completely peeled! Some skins are tricky and like to stay on. You can shake some more or pinch the cloves by the uncut side and usually the peel comes right off.*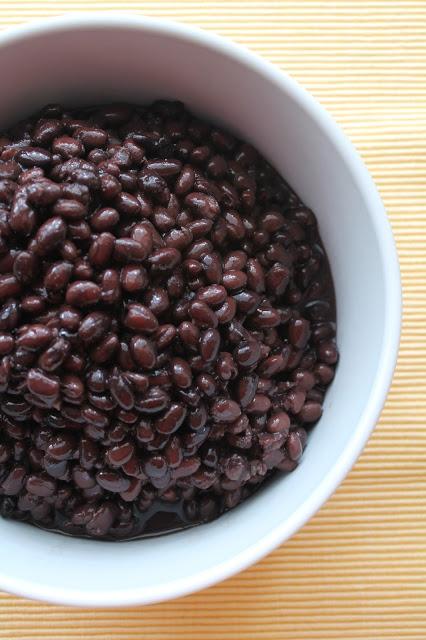 Open and drain your four cans of black beans. DO NOT RINSE THE BEANS! Add them to your pot.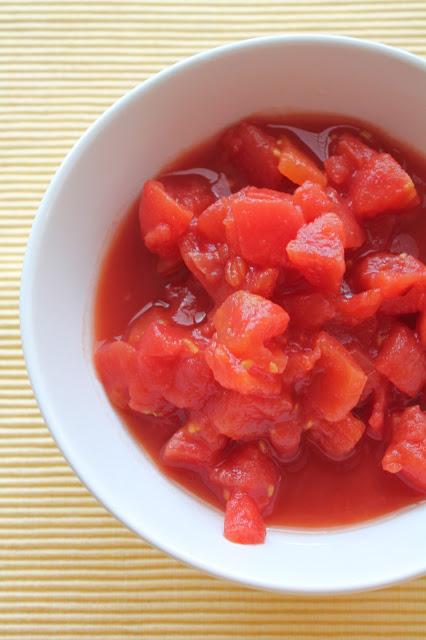 Dump 1 whole can of diced tomatoes in the pot.
 Drain (do not rinse) the second can of diced tomatoes and add them to the pot as well.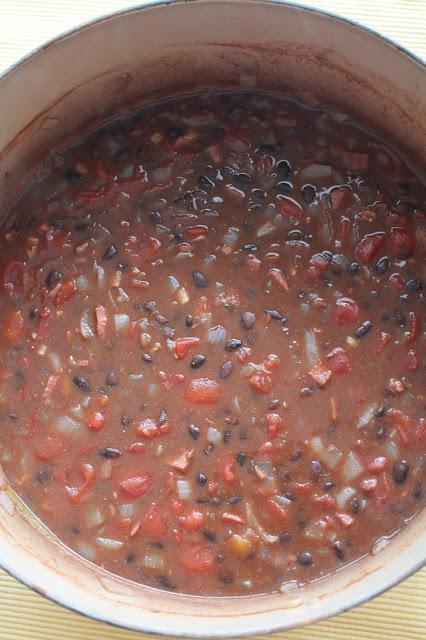 Add the rest of the soup ingredients and stir the mixture together. Simmer the soup for at least 15 minutes, or until heated through.
 In two batches, puree the soup in a Vitamix, blender, or food processor. Return the purees back into the original pot and continue to simmer until it's time to eat.
For the creamy cilantro lime topping, combine the sour cream, cilantro, and lime juice together in a small mixing bowl. Spoon a heaping dollop into your bowl of black bean soup, and you're done!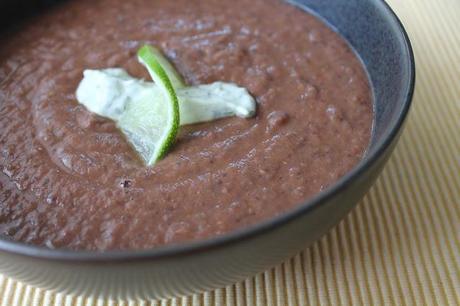 You may also garnish your soup with a thinly sliced lime wedge, shredded cheddar cheese, crushed tortilla chips, or all of the above! Enjoy
!