Petit Plat @ Etsy


If there is one thing that the sun makes me want to do, it's eat ice cream. There's just something so calming about sitting in a park with a cone in hand and the sun reflecting off your over-sized shades. It just feels like your own little piece of heaven. Unfortunately though, the thing with ice cream is the calories. How can something so tasty, simultaneously be oh so bad for you? It's just heart wrenching to say the least.Well, worry no more: Just when I was beginning to think that my love of the cold stuff was going to have to be a thing of the past, I stumbled upon the Etsy store, Petit Plat. 

Petit Plat is a French online store, specialising in miniature desserts. Owned by Stephanie Kilglast, you will find various treats including: rainbow doughnuts, French macaroons, fruit tarts, pastry counters and even a plate of BBQ burgers and kebabs. The best part? All 100% mouth watering to look at but with 0% of the calories. You can wear each miniature in the form of earrings, rings and pendants, however there are specially made little plates which look uber cute in a collectors dolls house.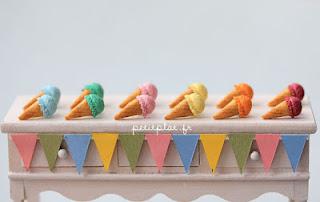 Ice Cream Earrings @ Petit Plat
With the sun making such a strong appearance in the past week and my love of ice cream, naturally the little 
ice cream earrings
 stood out for me. Add to the fact that candy pastel colours are one of the main trends this Spring/Summer and you have a winner. The earrings which are available in yellow, orange, dark rose, pale pink, mint green, blue or your own choice of ice cream, come in at 
€16 or 
£13.72 per pair and are made from polymer clay and surgical stainless steel posts (there is the optional upgrade to sterling silver for an additional 
€3).
If you want to find out more about the shop, then why not check out the blog here! :)