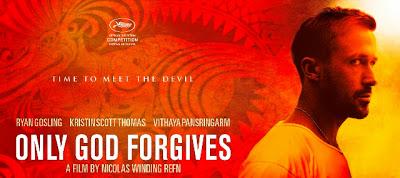 There are films that divide the audience into two; those who love them and those that simply hate them. Here is a film that not only does that, but surprisingly divides my opinion about it into two as well. There are moments in the film when I could not take it anymore, thinking that the film tries to be something that it clearly is not. On the other hand there are elements of pure brilliance that just wowed me. It's now been close to two weeks since I watched the film, and the more I think about it, yes! The film does linger in the mind, the more I seem to appreciate it.
Only God Forgives is a revenge drama. A cop with his own form of justice is out to get an American family of two bothers and a mother who have taken over the drug smuggling business in Bangkok under the pretext of running a Thai-boxing gymnasium. Problems arise when one of the brothers is killed and Julian played by Ryan Gosling is forced into confrontation as he struggles to live by his own standards and those of his mother Crystal played by the brilliant and unrecognizable Kristin Scott Thomas.  
There is very little complexity in the story. If you look at it as a whole, the film might not entice you based on the back and forth revenge "killings" that takes place. Where the real complexities lie is in the characters. There is no black or white. Everything and everyone is a different shade of gray. Forget the story for it is the characters that really make this film. Ryan Gosling's Julian, had it not been for the ultimate scene, could very well be the predecessor of the character he played in Drive; the quiet type with a bubbling angst inside him. Crystal plays a mother from hell that shows her maternal love in a not so standard fashion clearly having grown up in a world where one has to look after their own well-being over that of anyone else. Vithaya Pansringarm as the cop Chang is probably the most complex and mysterious character of the lot. He has a history and a certain respect that he gets from all around him, but very little is divulged in the course of the film. His stone faced emotionless portrayal of a human is daunting at times, almost scary, and that is where it unfortunately breaks away from reality.
There is no doubt that Only God Forgives is a wonderful film to watch. The director, Nicolas Winding Refs, has a special bond with the camera that is evident from the way he films his movies, something that was apparent in Drive as well. But, this time around he does go a little artistic, maybe a tad too much. Cinematic cuts and the camera angles and situations move slow and it feels as if the director is trying to be too artistic, even though it is not required. He managed the art-commercial ration perfectly in Drive, but here he crosses the line over into the artistic realm and the film even at only one and half hours seems to drag at times.
Only God Forgives is a film that everyone should watch. It's not one to miss simply because it will challenge you. You might hate it or love it or like me have a different opinion about it every week, but it sure will stay in your mind as you try and contemplate its purpose. 
Rating: Alternates between 2.5 to 4/5