Smartphones that attract attention the most are always manufactured by either Samsung, Sony, HTC, LG or Apple. However, right now you should focus on a handset called the OnePlus One, which will be announced next week . Never heard of it? Don't worry, most people haven't. This is a new company and the One will be its first smartphone.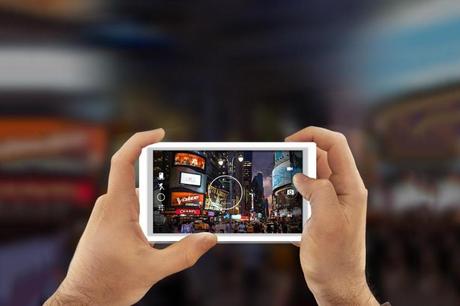 The OnePlus One is the company's first smartphone.
A Reasonable Price
The news about the release of the OnePlus One is all over the company's Facebook page and there is a countdown to the launch on its official website. In Europe, this phone will cost under 350 euros, which is a lot less than what you'd pay for a Galaxy S5 or a new iPhone. The price puts the One into the category with the Nexus 5 and Motorola Moto X, both with advanced specifications and affordable prices.
Specs – Faster Than the Galaxy S5?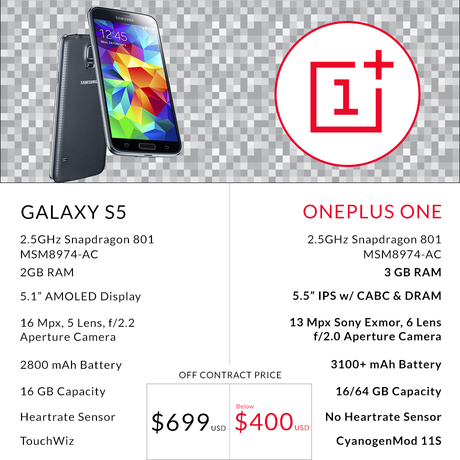 A table comparing the One and the S5.
The OnePlus One comes with a 5.5in screen with a 1080p resolution, manufactured by Japan Display. It's a big screen, yes, but OnePlus managed to put it into a smaller device than the Xperia Z1S (with a 5in display).
More importantly, the processor – Qualcomm equipped the OnePlus One with its latest chipset, the Snapdragon 801. This is the same processor that can be found in the new Galaxy S5, Xperia Z2, and the HTC One M8. The only difference is that it's clocked at 2.5 GHz here and backed by 3GB of RAM. So far, it sounds like the OnePlus One is faster and possibly more efficient that its rivals.
On its back is a 13-megapixel camera with Sony's Exmor sensor and the phone also has a 5-megapixel front-facing shooter. This phone also comes with 4G LTE, a 3,100mAh battery, a set of stereo speakers and you can choose whether you'd like 16GB or 64GB of storage .
CyanogenMod to Enhance the User Experience
OnePlus has also teamed up with CyanogenMod to create a slighlty tweaked version of Android. You can customize is as much as you want, and thanks to its open nature, the OnePlus One will be a dream of every hacker out there. You get all the usual Android benefits and Google applications can be installed separately.
Once the phone's released, we'll write a post with more info!