So yesterday I threw a bit of a hissy fit about missing out on a pair of Jeffrey Campbell Spiked Damsels on eBay for £36 (they actually went up to £50 in the end including P&P). I spoke about it on here last night so if you haven't seen that post – why the hell not?!
Just kidding

but go and have a look so you're up to date. I'd love to say that I got over my missed opportunity pretty quick, but it wasn't until I was laying awake until 2am thinking about all the different outfits I could create with the Damsels that I really started to feel the pain.
I mentioned yesterday that I'd love to start a new weekly feature on here where I take one expensive item (such as the beloved Damsels) and create a range of different outfits to go with them. I know this sounds simple enough, but because the Damsels are so pricey I'd make sure that every other item I wore cost very little.
For example: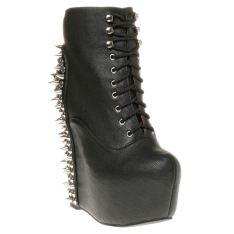 You can pick up a pair of Damsels online for around £89 (they're on sale on a few websites, but they usually cost anything from £130 upwards)
£89 is still a lot of money to me, as I'm sure it is to some of you guys as well. But because this is such a diverse shoe, as well as being an amazing statement piece, you really could put it with almost everything.
If you've just spent a lot of money on a pair of shoes, it's very unlikely that you're going to go and spend loads more money on the perfect outfit to go with them.
These velvet leggings (there's only two pairs left!) would look pretty snazzy paired with the JC's, and they only cost £7! Then add this fringed vest for £8 and this clutch for £19.99 (as it's from new look it's almost guaranteed to lower in price soon!) and it's only cost you an extra £35!
I think it'd be pretty fun to do a challenge every now and then as well. So I'd take an expensive item and then try and style it for under £30 and things like that. I think that'd be a pretty cool thing to introduce to this blog – what about you guys?