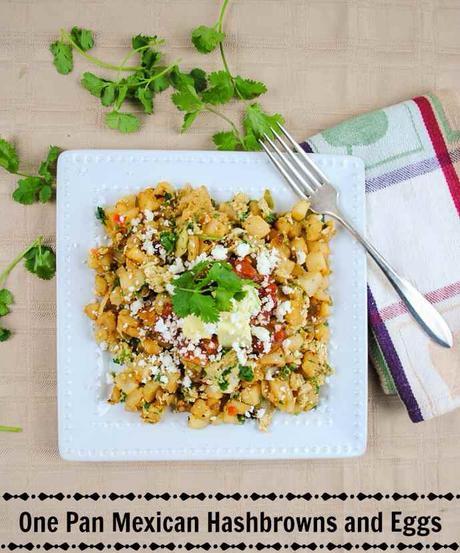 One skillet, one pan, and sheet pan recipes have become extremely popular as a way to get out of the kitchen quickly with a healthy meal on the table.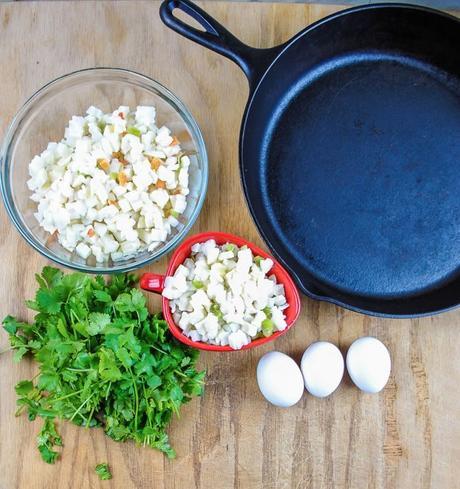 When it comes to my all-time favorite non-stick pan to make this easy meal, it's an inexpensive cast iron skillet. It's the best there is when it comes to non-stick surfaces.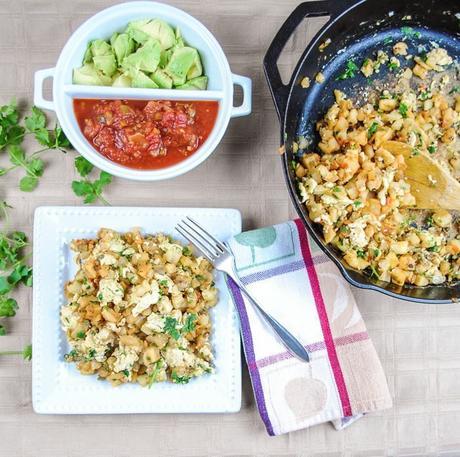 I buy frozen hashbrowns from the local grocery store. I can't fathom spending my precious after work cooking time shredding or dicing potatoes when someone else will do it for me.
After I tossed the potatoes with a Mexican seasoning blend, I fried them to a golden brown, then shoved them aside to scramble the eggs. See? One skillet and this healthy breakfast or quick dinner is ready to go with a sprinkle of cilantro.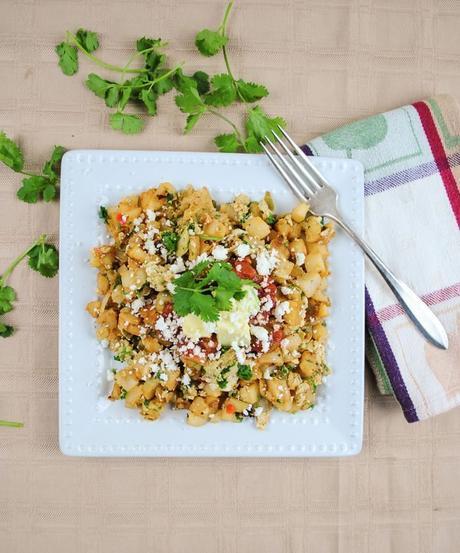 We topped our hashbrowns and eggs with sliced avocado, salsa, and crumbles of queso fresco, or at least Mike did. I was happy with a spoonful of salsa. Either way, extras or not, this is a one skillet recipe you'll want to keep in your collection. It can be twisted up so many ways to make a fantastic meal.
Shake It Up!
Try Italian seasoning with crumbles of cooked bacon or salty ham and sprinkles of parmesan cheese for a savory breakfast.
One Pan Mexican Hashbrowns and Eggs
One Pan Mexican Hashbrowns and Eggs
10 minPrep Time
25 minCook Time
35 minTotal Time

Save Recipe
Ingredients
3 cups O'brien Frozen Hashbrown Potatoes
2 large eggs
4 large egg whites
½ tablespoon Mexican seasoning
½ cup fresh cilantro, chopped
Instructions
Preheat a non-stick skillet sprayed generously with cooking spray over medium heat.
Whip eggs in a small bowl.
Add potatoes to the pan with Mexican seasoning and cook stirring every few minutes while allowing potatoes to start to brown. Cook potatoes until lightly browned and cooked through for 15 - 20 minutes.
Move potatoes to the side of the pan, add a little more cooking spray to the dry part of the pan, then add the eggs. Stir eggs gently until cooked through and scrambled. Gently move the potatoes into the eggs and mix together with cilantro. Season with salt and pepper to taste.
Optional toppings: queso fresco cheese, chopped avocado, light sour cream, and salsa.
Notes
Food energy: 324kcal Weight Watchers Smartpoints 9 Saturated fatty acids: 1.65g Total fat: 4.63g Cholesterol: 186mg Carbohydrate, by difference: 51.20g Total dietary fiber: 5.57g Protein: 18.82g Total sugars: 0.69g Potassium: 912mg Sodium: 276mg
http://motherrimmy.com/one-skillet-recipe-mexican-hashbrowns-and-eggs/
Looking for more super easy one skillet, one pan, or sheet pan meals? Check out my Pinterest board for my recipes and recipes from fellow healthy recipe developers.