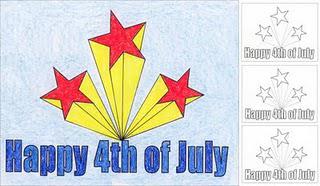 I created this exercise sheet so that students could practice creating their own one-point perspective. And why not practice with stars for the 4th of July?
1. You can download my practice sheet that has the type and stars in place HERE. Students begin by making a dot for their disappearing point somewhere below the stars. Using a ruler, they connect the dot to the widest points of each star.
2. Students draw a line to connect the inside points to the disappearing point.
3. Students draw lines to any outside points that may show (see diagram). All of the lines are traced with a thin black marker and the art is colored in.
CA Visual Arts Standard: Grade 5
2.1 Use one-point perspective to create the illusion of space.