Which one of these golfers will win The Masters? Here is the leaderboard of 2016 Masters invitees as shown on the Masters.com website: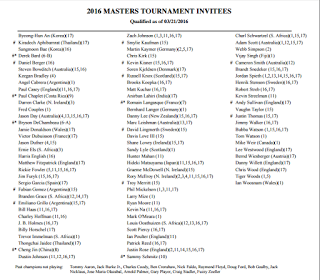 The list of players who have been selected above have qualified by March 21, 2016 (the field stands at 90), and can serve as a starting point for this golf blog's discussion as to favorites to win The Masters. For example, Tiger Woods is listed to play but, for the second year in a row, CBS Sports reports that Tiger Woods may not play in The Masters. Pairings and tee times will be available after the par-3 event on Wednesday.
Who is YOUR Favorite to win The 2016 Masters?
This is an invitation-only tournament so the golfers that have been selected are the cream of the crop and/or have won an event offering an exemption into this first of four major events of the year.
From the above list, here are the five players I suspect will be in contention on Sunday at The Masters:
Jordan Spieth
- The top-ranked golfer in the world, already a Masters Champion in a wire-to-wire win and mentioned that this is his favorite tournament in the world. Also, Jordan set a Masters record last year for most birdies in a tournament (26).
Phil Mickelson
- My favorite golfer... at 70 wins to date, made the cut in The Masters twenty-one times and has three green jackets in his closet. "The results will come if I continue to play the way I'm playing," Lefty recently stated.
Adam Scott
- Not much for Match Play this year calling his recent halve "pathetic" but red-hot on the PGA Tour right now and, since golfers play in the moment, this is why I picked Scott as a possibility to win. Also, with
Steve Williams
 confirmed as his Masters caddy, Scott has increased his winning potential, in my opinion.
Zach Johnson
-Has a Claret Jug and a Green Jacket as his prized possessions. Very steady player.
Jason Day
- Able to scramble and
win
 against Graeme McDowell even after hurting his back during match play.
Okay, so I am not positively sure that any of my picks will win The Masters but, based on this season's performance as well as previous accomplishments, these players have a good shot at 2016 Masters glory.
Who are your picks? Let us know on this golf blog or on Twitter @
Golf4beginners
.