I was playing in my Saturday night softball league last night, and could only follow the Red Sox-Indians game on my iPhone. Looks like I missed one of the best games the Sox have played this season.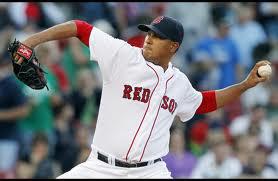 Felix Doubront (pictured) continues to be one of the best things about 2012 for the Red Sox, as he allowed just one earned run and three hits, as the Sox took their second straight from the Tribe, 4-1.
The bullpen was impressive last night, after the shaky outing of Friday night. Andrew Miller, Vicente Padilla and Alfredo Aceves each pitched a perfect inning to preserve the win.
Cody Ross went deep across the street, David Ortiz, Dustin Pedroia and Mike Aviles had RBIs. Pedroia is now red hot, and has hit in 13 straight games.
The four game series with the Indians concludes today with Daniel Bard taking on old friend Justin Masterson.