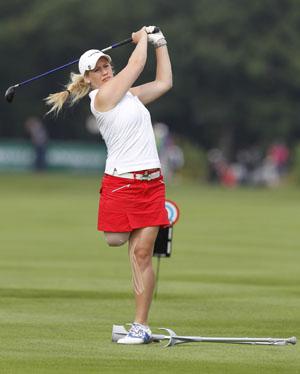 'One leg too few' is the famous comedy sketch by Peter Cook and Dudley Moore.

With Cooke as the casting agent who interviews Moore as a one-legged man auditioning for the role of Tarzan.

None of us know what lies ahead. I can imagine if I lost a leg that my days of playing competitive sport would be over and I would just mope about feeling sorry for myself.

But then there are people like double amputee Oscar Pistorius who made history this week by reaching the men's 400m semi final at the World Athletic Championships.

Pictured here is Swedish golfer Caroline Larsson who played at the Pre-Qualifying School for the Ladies European Tour.

Fellow professional golfer Carin Koch said "She's unbelievable; she hits it so good. She's such a great person and very inspiring, positive and just a lot of fun. She doesn't say anything bad about what has happened to her; she just takes all the positives and tries to do everything as good as she can with a new situation in her life and it's just very inspiring."

A one-legged Tarzan. Why not?
---------------------------------------------------