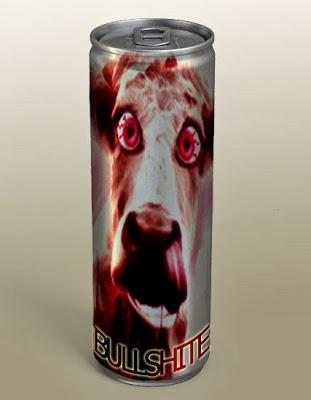 Considering we talk a load of controversial shite most of the time, it is bewildering to us that our blog 'A small peg in a round hole' has achieved nearly 100,000 hits. Big thanks to Jim, Bob, Mary and Ellen who are currently on sick leave with repetitive strain injuries.
To celebrate our remarkable achievement we have written about what we believe should be the next world brand.
We have been looking to create a new world brand using our experience and expertise.
As we still regard ourselves as sporty, we are planning to enter the exciting energy drinks market with our new secret formula drink and brand.
Here is an exclusive first look at our new product.
'Bull Shit Energy' or Bullshite as we like to call it.
If only 'Eddie the Eagle' and Maurice Flitcroft had the opportunity to drink Bull Shit Energy every day they could have been world beaters. No matter what level you play at or whether you play on a pitch, court, wicket or table, drinking Bullshite will enhance your stamina, intellect and overall performance. Whether indoors or outside, Bull Shit Energy drink is climatic independent.
You can be reassured we have developed the least expensive synthetic ingredients to maximise our marketing budgets.
Look out for our extensive Bull Shit sponsorship, endorsement and marketing campaigns coming to a town near you.
In the near future it is entirely feasible we will be extending our 'Bull Shit' branding into other markets including 'Bull Shit Virgin', a sexual health counseling service.
However, our next product is already being tested and going through all the necessary health & safety regulations. Highly filtered Bull Shit bottled water, it is pumped directly from streams that run alongside fields where bulls are grazing. How amazing is that?
If you would like to become a shareholder in the future success of 'Bull Shit', we will be launching our investment opportunities on Kickstarter.
--------------------------------------------------------------------------------