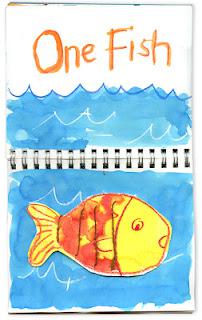 It's fun to add a little texture to your journal pages with yarn.
1. A fish is drawn on heavy watercolor paper, traced with a crayon and cut out. Students paint it with watercolor paint and let dry.
2. On an open spread of journal pages, water lines are drawn in blue and some waves in white. The water is painted with blue watercolor paint. A title for the page is added at the top.
3. A length of colorful yarn is chosen. Notches are cut along the sides of the fish and the yarn is wrapped using the notches.
4. The fish is glued down with a glue stick.