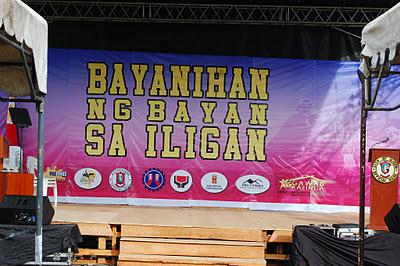 Photo: Jeffrey Wong
BAYANIHAN NG BAYAN: "Anong Taya Mo para sa Bayan?" –ILIGAN CITY
Iligan City Day of Volunteerism and Solidarity
January 25, 2012| Iligan City
OPENING PROGRAM
7:30-9:00am| Mindanao State University-IIT Gym
Iligan City Government and it's people welcome volunteers and partners from the national government, corporations and other organization. Kick-off of Iligan City Day of Volunteerism and Solidarity Activit; Mobilization: 4,00 High School Students, LGU staff, colleges and universities, Brgy. Santiago, Brgy San Miguel volunteers. For Confirmation contact us. 0946-343-8155, email

[email protected]
SIMULTANEOS VOLUNTEERISM ACTIVITIES
9:00AM-2:00PM|Brgy. Santiago, Tambacan, Hinaplanon, Mahayahay
Brgy. Council of these areas and the SK Federation will facilitate massive clean-up drive, repainting and landscaping in the highway, community facilities: Brgy. halls, public schools, plaza, etc.Mobilization: 10,000 Communities of these Barangays, high school students, SK Federation Iligan City.
To volunteer contact: 0916-479-1371, email

[email protected]
ILIGANON HEROES BUILD
9:00AM-2:00PM|Steel Town|Gawad Kalinga Resettlement Site, Brgy Sta. Elena.
Ground Breaking Ceremony of more than 3,000 Gawad Kalinga Homes with National Government Officials, Partners, Iligan City LGU.
Mobilization: 300 Teams: Colleges, Universities, Organizations, LGU units, etc., will form teams of 15 volunteers and be assigned to build houses.
For more information and confirmation of teams contact: 0917-987-3690, email: [email protected]
PARAISONG PAMBATA:ILIGAN'S BIGGEST KIDS PARTY
1:00PM-3:00PM|Mindanao State University-IIT Gym
2,000 Kids from evacuation centers and affected communities to celebrate a kids party with youth volunteers. HRM student volunteers will prepare party cakes for the kids who will say their prayer and wishes:
Mobilization: 1,000 SMC student, GK youth and volunteers.
To volunteer, contact 0905-888-3228; email [email protected]
GROUND ZERO CEREMONY at Mandulog Bridge, Brgy. Hinaplanon
4:00PM- Mass by Msgr. Nitz Galido|5:15PM Ecumenical Prayer and Commemoration
Volunteers say a prayer and fly a thousand Sky Lanterns. With Iligan Leaders and affected communities representatives offering flowers and candles to the victim of the flood, community singing.
Mobilization of 3,000 college students, organizations to fly sky lanterns (Bring candles flowers)
To volunteer, contact 0916-320-0809, email: [email protected]
SOLIDARITY WALK
5:45PM|5,000: from ground Zero, volunteers and guests will march to MSU-IIT Gym holding candles and torches and chanting for solidarity, Mobilization: Brgy Councils, Fraternities and sororities, organization, LGU Iligan City, College students, Community members.
BAYANIHAN NG BAYAN CONCERT
6:30PM-9:00|Mindanao State University-IIT Gym
Performances from guests celebrity performers and local artists, celebrating volunteerism and an invitation to solidarity by committing to build 300 homes at the Steel Town Resettlement site by February 25, 2012 EDSA People Power Celebrations.
ONCE AGAIN LETS JOIN HANDS FOR OUR CITY!!!
ONE FOR ILIGAN