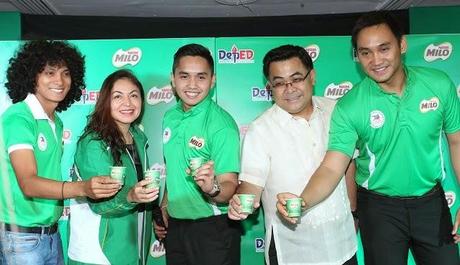 Leading beverage brand MILO today announced its partnership with the Department of Education (DepEd) for the One Child, One Sport campaign. One Child, One Sport will enable closer collaboration between MILO and DepEd as it consolidates their new and existing sports programs under one umbrella campaign. Anchored on the thrust to build a nation of champions, the program seeks to empower, mobilize, and inspire both the youth and their educators through sports and proper nutrition.
According to the 2011 Updating of Nutritional Status of Filipino Children conducted by the Food and Nutrition Research Institute (FNRI), with the rise of interactive technology, children are becoming less engaged in physical activities that enable them to lead a well-rounded lifestyle. Concurrently, households have less time to prepare healthy meals that support overall wellness due to work and other factors.
"We are working closely with DepEd to raise awareness about the value of physical education and sports in bringing a wealth of physical and mental benefits and teaching life values that prepare schoolchildren for a successful adulthood," says Nestle Philippines Beverages Business Executive Manager Sherilla Bayona. "One Child, One Sport is a program that encourages children to get into an active and healthy lifestyle and eventually lead them to sports."
Bayona adds that providing access to physical education and various sports disciplines will not only shape the country's budding athletes, but will also address the right of every Filipino child to learning opportunities for a better future. MILO and DepEd seek to engage 15 million schoolchildren aged 7 and above to become active and healthy champions by 2017.
MILO and DepEd will implement One Child, One Sport across ongoing and new sports programs in public schools in the country. One example of how OCOS will leverage existing MILO sports programs is the National MILO Marathon, which will continue to engage DepEd through its short distance race categories and the Help Give Shoes Advocacy.