Gearing up for another Ring Cycle.
by
Paul J. Pelkonen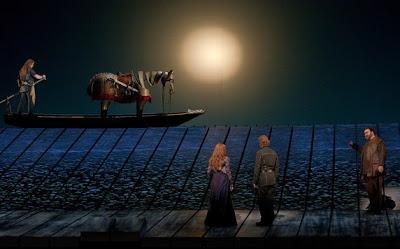 Siegfried (Jay Hunter Morris, left) rows up the Rhine as the Gibichungs look on.
Act I, Scene 1 of the Met's production of Götterdämmerung.
Photo by Ken Howard © 2012 The Metropolitan Opera.
I wasn't all that enthusiastic about seeing the
Ring
again.
I'll admit that in the buildup to the 2010 premiere of the Metropolitan Opera's new Robert Lepage production of
Der Ring der Nibelungen
, I was excited,
even enthusiastic
. I had enjoyed the concerts and theatrical productions that I'd seen him put on: Peter Gabriel's
Growing Up
tour, the Met's fully staged 2008 
Le Damnation de Faust
and Cirque de Soleil's
Ka
in Las Vegas.
I had also some first-hand experience with Mr. Lepage, interviewing him in 2005 for an article appearing in the
International Herald Tribune
about his work on the Lorin Maazel opera
1984.
(I interviewed him again last fall, this time talking about his new production of 
The Tempest
.
Then, on opening night of 
Das Rheingold, 
the multi-ton multi-million dollar stage set ("The Machine") clanked to a halt, forcing the actors to exit lamely stage left. Later, I saw an early performance of the opera (with James Levine conducting) and one with Fabio Luisi in the spring of 2011. I enjoyed it but was somewhat underwhelmed by the combination of blank planks and digital projections.
Die Walküre
came (as int inevitably does) six months later. I saw the March 2011 premiere from Family Circle standing room. (Yes, I'll stand for Wagner.) the night that soprano Deborah Voigt tripped on her skirt. I was blown away by
The Ride of the Valkyries.
I saw the show again.
On a night that I wasn't there, one of the Valkyries fell off the set.
I'm a dutiful Wagnerian (as well as a professional critic.) Despite the accidents and cancellations (including the sudden departures of tenors Ben Heppner and Gary Lehman from the all-important role of Siegfried) I still had hope for the Lepage
Ring. 
Armed with early-purchase tickets (in the Family Circle), I attended the opening performances of
Siegfried
(Oct. 2011) and
Götterdämmerung
(Jan. 2012) I was not impressed, particularly with Ms. Voigt's performance in the former opera and Jay Hunter Morris' ersatz Siegfried. (He left out an entire line in
Götterdämmerung
.
I was done.
I skipped going to any of the complete cycles staged last spring.
Aside from reviewing the self-serving "making of" documentary
Wagner's Dream
, I thought I was done with the
Ring.
I didn't even listen to the score for nine months. My Solti, Karajan, Böhm, Levine, Haitink, Barenboim, Swarovsky, Goodall, Furtwängler and Knappertsbusch recordings lay silent in their boxes, on the fourth shelf of my CD collection under a little brass bust of Wagner I picked up at an antique store in the Village.
But, I listened to the new Valery Gergiev recording of
Die Walküre.
 And I try to see every show in a Met season. The other day, looking for a bargain ticket for
Walküre
(this is what you have to do when your publication is denied press ticket privileges by the Met) and making plans to stand on the Agnes Varis Rush Line for some of the other operas, I found a fellow on
Craigslist
who was willing to sell me his whole set of
Ring
tickets at a bargain price.
After today's meeting in an Upper West Side coffee house, I am the proud owner of Family Circle tickets for all four Saturday matinee performances. And I'm looking forward to hearing and yes, even seeing this
Ring
one more time--possibly, if rumors are true, for the last time.
Valhalla, I am coming. As always, reviews to follow.