Fancy colored diamonds are the rarest diamonds in nature, and the deeper the color the more rare and valuable they are. Recently, a blue diamond ring at Bonham's in London sold for a record price. The deep blue diamond, set in a Trombino ring made by the Italian jewelry company Bulgari sold for $1.8m. The sale beat the previous world record of $1.68m per carat for a blue diamond.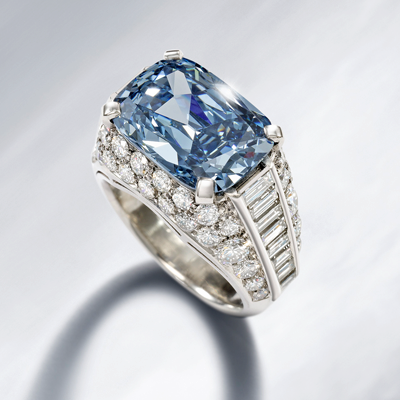 The exquisite fancy deep blue diamond weighed 5.30 carats and surprisingly brought in four times more than the estimated pre-sale price. The bidding came in from around the word to Bonham's auction on London's New Bond Street. The buyer? London-based diamond house Graff Diamonds won the bidding with $9.5 million. The original estimate for the sale of the rare blue diamond in a Bulgari setting was between $1.5 and $2.3 million.
The ring has been in existence since 1965. The Bulgari setting adds to the beauty and value of the diamond. It is done in a romantic cushion-cut, set horizontally and in a mount pave-set along with brilliant-cut and baguette-cut diamonds. Bulgari jewelry was considered to be the epitome of fashion in the 1960s.
Jean Ghika, the Director of Bonhams for Europe made a statement after the sale. She stated, "We are delighted with the price it made. It was a sensational stone which charmed everyone who viewed it prior to the sale.
She went on to add that blue diamonds, especially ones as large as the one just sold at Bonham's are "extremely rare to see on the market and continue to be highly sought after."
Blue diamonds have been highly coveted and appreciated by royals and celebrities for centuries. The most famous one continues to be the beautiful deep blue Hope diamond. It was bought in the late 17th century by King Louis XIV of France. It now belongs to the Smithsonian Institution in Washington, DC.