Hey friends. Today is going to be a day filled with delicious eats that you DO NOT want to miss. 50 years ago my Grandfather was in the navy. He was the weatherman on big aircraft carriers. This job took him to Japan in the late 50's with my Grandma and their two sons. One of which is my Dad. They lived in Japan for 2ish years and in that time they made great friends with a college student. Ishiro has come back to America to visit my grandparents, and do work, a few different time between now and then and he is back today for a visit.
My Grandma has planned two delicious meals at some famous local eateries that I can't wait to eat at. Lunch will be at the historic Steinbeck House. Remember, I live in Salinas, where John Steinbeck (author of Grapes of Wrath, East of Eden, Cannery Row, the Red Pony, etc…) was born and lived. We will be lunching in his actual house. Then for dinner, we're taking Ishiro to The Chart House a very popular, and well respected, fine restaurant on Cannery Row in Monterey.
It's a big day people, I can't wait to photo all of it!
Breakfast
I wanted to keep breakfast relatively light since I have an eating marathon starting at 11:30am.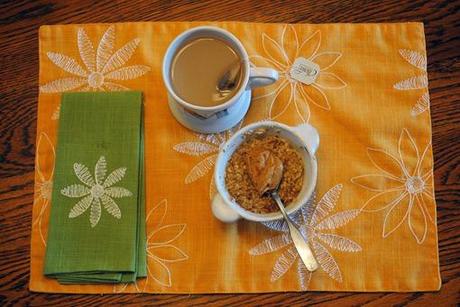 I made a packet of instant maple oatmeal (160 calories). Then I added a tsp milled flax seeds and 1 TBSP Adam's Peanut Butter (100 calories). I contemplated adding a few butterscotch chips since it is Sweet Friday. But we have a long day ahead. I want to enjoy everything so I'm going to wait and see how the day unfolds. I can always get a cookie or froyo after dinner if I need my fix.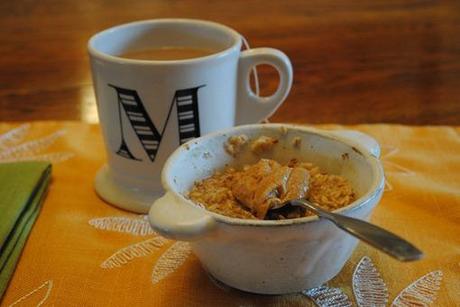 This is my favorite oatmeal bowl. I don't know why.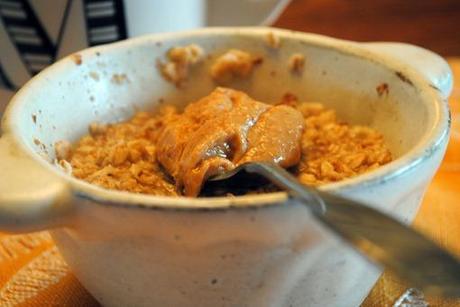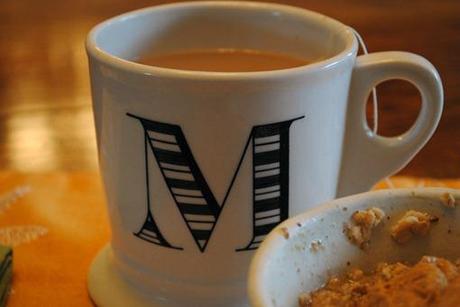 Black Choice Tea with soymilk (33 calories).
Tummy Troubles
Last night was the first night in a log time that I didn't have any tummy issues. I usually have a few snacks every night after I sign off blogging and last night I had a spoon of peanut butter and 2 corn chips. But my stomach wasn't all grumbly and yucky. It was really nice.
I really liked your ideas, they helped so much. I tried eating more at lunch and less at dinner. I also only ate vegetable products (for the most part) last night so maybe that had something to do with it?
I skipped my run because I didn't want to risk the tummy upset.
Question
I have tummy troubles almost every night and after most runs. I don't think I'm gluten or wheat sensitive but I'm not positive. If you have tummy troubles or something similar what did you do to fix it?
Yesterday's comments were so helpful! Thank you guys