The iWatch is coming! The iWatch is coming! But what it will be, no one really knows. Those in the know have come up with some far out–and not so far out–conjectures. Let's look at some of them.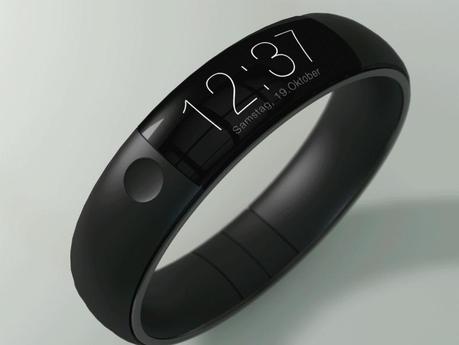 via A Blog to Watch
What We Know
We do know that Apple plans on releasing the iWatch sometime in late 2014 according to MacRumors. Originally anticipated in late 2013, Apple decided to make us all wait for this little doodad another year. Seriously? What are they thinking? That we'll all wait impatiently for this wonder? Of course they do. And of course we will. We know that it will have a one and a half inch display and a "full" iOS, whatever that means. The watch will be able to take biometrics, presumably having sensors that will monitor things like your heart rate, your oxygen levels, your blood pressure, and other nifty things. It should have batteries that last four to five days. And if it cooks dinner, washes and waxes the car, and takes the dog for a walk, our lives would be complete.
Sapphires are a Techie's Best Friend
Sure, diamonds might be a girl's best friend, but according to A Blog to Watch(ABTW), Apple may use sapphire crystal for the display. It's not as far fetched as it sounds. Apple has used sapphire crystal as components before, but not as much as ABTW suggests. Apple already uses sapphire in their camera lens covers and home buttons on their iPhone 5S. According to Techcrunch, Apple recently purchased a synthetic sapphire company named GT Advanced Technologies in Arizona and is now building a factory to produce synthetic sapphire crystal. Sapphire is extraordinarily tough–almost, but not quite, as tough as diamonds. It's stronger and more scratch and crack resistant than Corning's Gorilla Glass that Apple currently uses. Apple is known for self-sufficiency, and this appears to work in Apple's favor.
Other Interesting Rumors
Until the iWatch comes out, you'll be hearing plenty of interesting rumors. The Mac Observer suggests that since the iWatch will be in contact with your skin, there may be no need to plug the watch into any power outlet for recharging. Instead, it could recharge its battery from your body's heat.
Another thought is that if the screen is made from sapphires, it could be curved into whatever shape will fit the human body and be stylish at the same time. Nobody said it had to have a flat screen.
Not only will be a useful accessory for you, but it's likely to be an accessory for the iPhone and other iOS devices. It'd be a great tool for checking messages, texting, and using maps. Still, some experts suggest that the iWatch could be standalone, capable of running by itself.
Slap Yourself Silly
If these cool ideas haven't whetted your imagination, you may need to be slapped. Slapped with a slap bracelet, that is. Apple applied and was approved for a slap bracelet patent according to MacRumors. Slap bracelets–and slap watches– could make wearable video devices easy to carry around. In essence, the item would be a long thin strip that when you slap it against the arm, it curls around it. If Apple pairs the iWatch with the slap bracelet, they'll have a runaway success.