Welcome to binNotes | redThread™
Inspired stories about artisan wine and taste makers.
by L.M. Archer FWS, Bourgogne ML
Dear Readers: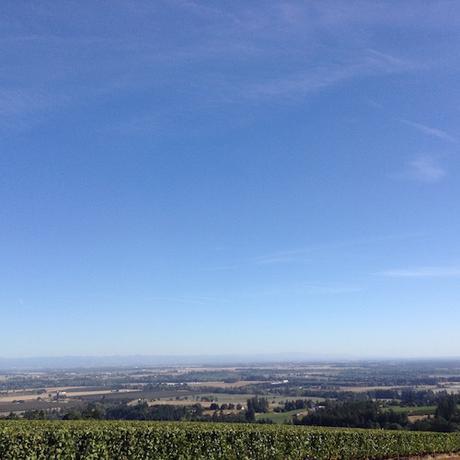 Willamette Valley from Domaine Drouhin Oregon | Image: ©2016 L.M. Archer
No, I haven't forgotten about you – just busy traveling in Oregon, San Francisco, and N. California…oh, and a future visit to Texas Hill Country in December.
So please join me for the balance of 2016 as I amp up my redThread™ interviews with artisan wine and taste makers – and crank up my Hedonistic Tasting notes, too!
Pssst…I'll also be winding down my Guest Writer Series for 2016…settle in and get cozy as I toss the mike to a bevy of my favorite vibrant voices in the wine writing world as they offer their unique perspectives on a few of their favorite, obscure wine regions.
Oh, and if that isn't enough, you get to glimpse my pain while pursuing a Champagne Master Level designation through the Wine Scholar Guild…it's a natural progression, really, for this Burgundy geek – learning another expression of Pinot and Chardonnay, this time with texture!
As usual, I will continue to share links to my professional features in various publications.
And if you haven't already, you can follow along with me on social media,  and sign up for my monthly newsletter at [email protected]
NOTE:
Social  feeds vary to fit the needs/interests of my  followers – some helpful hints:
Instagram: My go-to  for sharing tasting notes and live tasting/event feeds.
Twitter: Tied to Instagram; also where I share current/breaking wine world news and industry shout-outs.
Facebook: Where I share my featured articles and interviews with various affinity groups, and shout-outs to wine industry and professional writer colleagues.
LinkedIn: Where I share my professional writing and video correspondence.
Pinterest: My wine geek happy place.
Hope this helps – see you back here soon!
Cheers~
Copyrighted 2016 binNotes | redThread™.  All Rights Reserved.