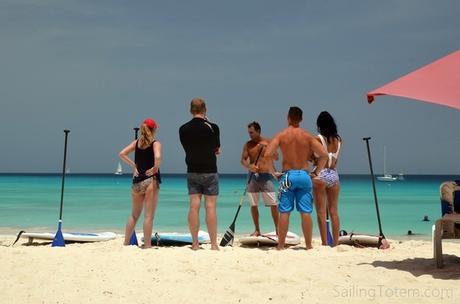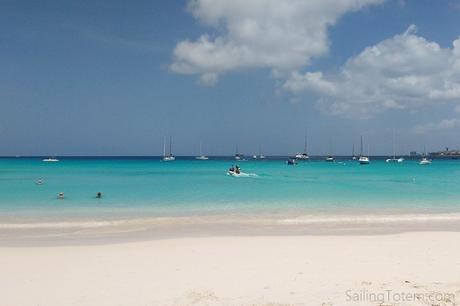 Across many of the countries we've visited most recently—South Africa, Lesotho, Namibia, the British Overseas Territory islands—we stepped into the role of tourist with happy abandon. Taking massive road trips in South Africa, hitting up TripAdvisor hotspots in Namibia. Hiring a guide for day tripping in St. Helena. Renting a car and touring around Ascension Island. It's not a typical but a fun pairs of shoes to try on. When would we get to these far corners of the world again? This added some pressure to travel differently.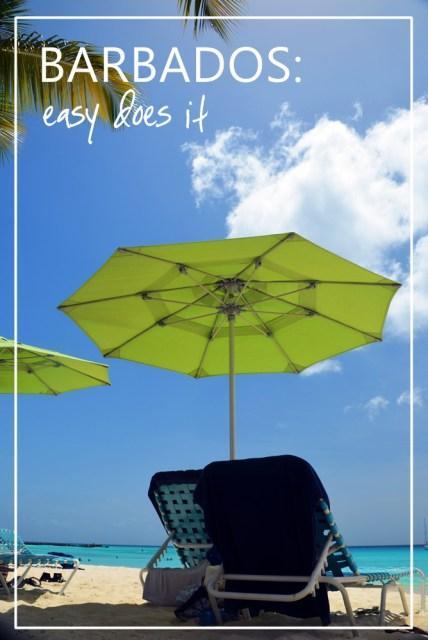 Barbados, first stop in our quick pass through the eastern Caribbean, is an island we might not get back to. The location is slightly awkward (e.g., upwind!), and with the beautiful and diverse places to more easily visit along the chain next year… well… not sure what will happen.
So in Barbados, following the pattern of late, we'd expect to visit the house where George Washington slept, now a museum. We should have made a pilgrimage St Nicholas Abbey, the oldest distillery in the "new world." We'd walk through the wildlife reserve and botanic gardens. And as true blue sailors we'd CERTAINLY be expected to taste our way through the Mount Gay distillery!
Well, none of these happened. Partly because we were just ready for a break. The passage to Barbados may only have been 17 days, but it was about two months after leaving Namibia (and three months since our last real stock-up/fuel-up/fix-up/provision-up in South Africa). After all those on-the-go miles, it was time to catch our breath a little. If you can count facing about 1,900 nautical miles to tackle in the following six weeks a good "time" for that!
It's also partly because we had the good luck to meet and spend time with a Californian-turned-Bajan named Mark, who in his warm, low-key manner introduced us personally to some of the best of Barbados. Settled onto his mooring off the affable Barbados Cruising Club, we had easy access to shore and marine park.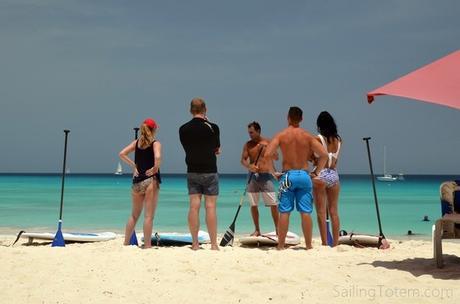 Jason from Paddle Barbados gives a SUP class on the beach
We were then introduced to the tremendously cool and friendly couple that run Paddle Barbados, adjacent to BCC, and soon after had a SUP for the week. I am HOOKED and officially in the market for a SUP! I had my first SUP yoga class – amazing, because you cannot for one second stop telling every muscle what to do in order to remain on the board instead of in the water. The kids had a blast too.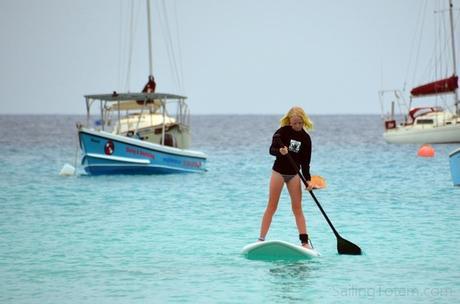 Siobhan paddling to the beach from the mooring field
Mark's involved with the local turf club, and when a public holiday promised a good day on the track he snagged us tickets to the owners & trainers bar in the grandstand.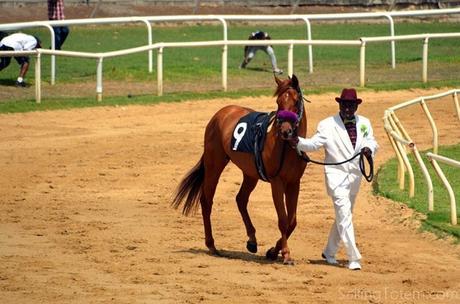 It's the first time any of us experienced horse racing – the ritual and formality here was unexpected. There's a lot of sitting between high-energy finishes, but they make up for it. I liked watching the crowd almost as much as the horses!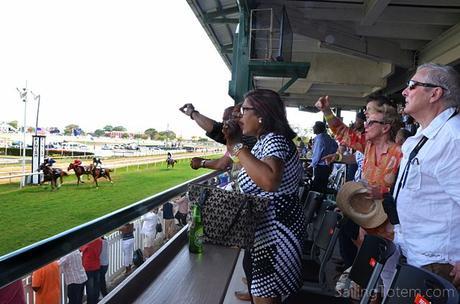 there is a dress code, and yes, we were challenged to meet it.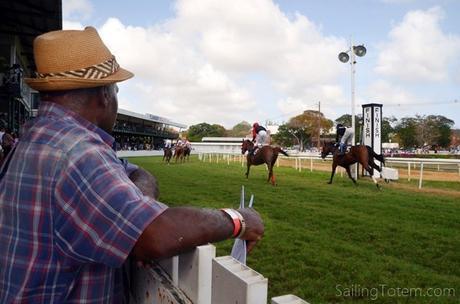 Bonus: this was on Mairen's birthday. Our horse girl, who took to riding like a natural as a wee girl (the one who should probably be on land instead of at sea). A birthday treat that could only be topped by…MEXICAN FOOD. OK, Tex-Mex, but that carnitas was melt-in-your mouth good. And the margaritas? Café Sol has a margarita bar, so that's probably part of the reason I don't seem to have very crisp photos from dinner.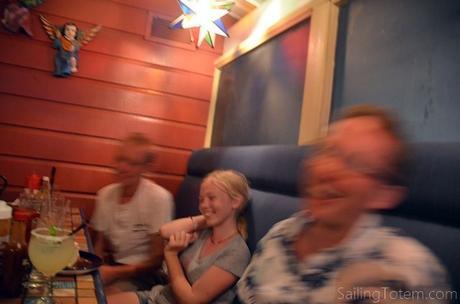 A lot of our week in Barbados getting Totem back to an even state: cleaned up after the weeks coming across the Atlantic. And then, reasonably provisioned ready to go for the home stretch. Produce this fresh and varied? Haven't seen anything like it since leaving South Africa. I think that was January.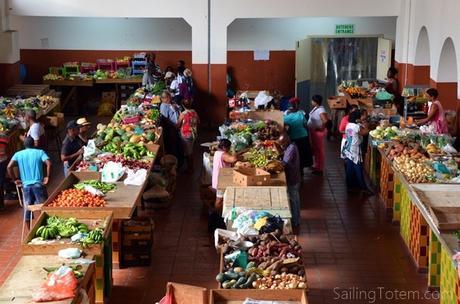 Fresh produce in the stalls of Bridgetown's Cheapside market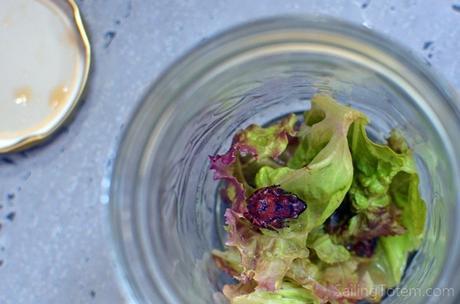 Good news: it must be organic, because this froggie friend spent a couple of days in the lettuce before being discovered
A short paddle/swim/dinghy ride from Totem was a marine park. Several wrecks at a variety of depths make interesting snorkeling or diving, and the sealife exceeded expectations.
See the fish?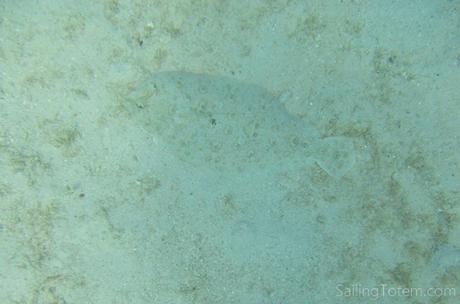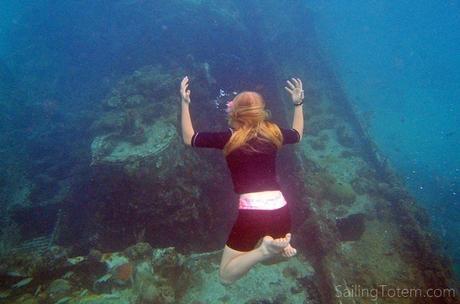 Mairen has a moment with one of the wrecks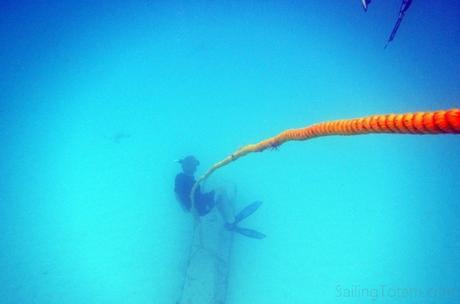 Niall works on freediving skills at one of the moorings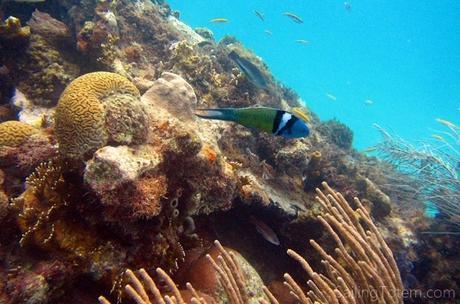 See the fish now? With tweaked colors so the nearly-invisible-flounder above is easier to find.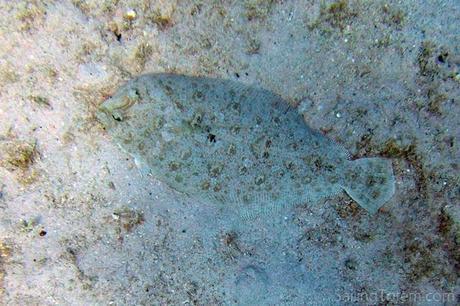 One morning, we had front row seats to the latest addition to the marine park when a retired Barbados Coast Guard vessel was deliberately sunk for wreck divers. The run up was very officially organized (we were off the boat…Niall took this!).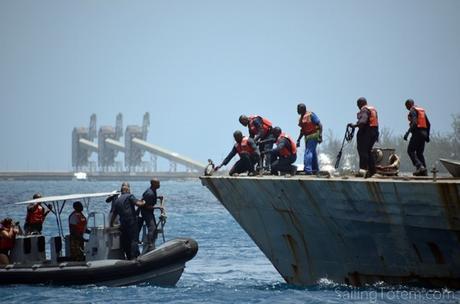 When the ship finally went down, though, a laid back attitude that Barbados is steeped in prevailed: there were tourist pontoon boats, families in kayaks, kids in inflatable donuts, all right up next to the big ship. NO WORRIES MAN!
The ship is juuuust starting to seriously list here, and was completely submerged within a couple of minutes.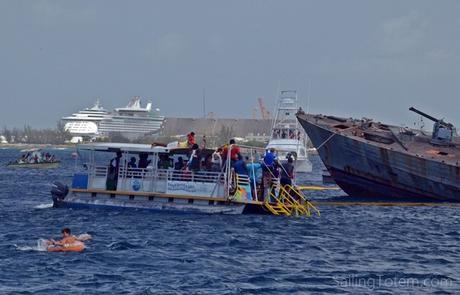 A few folks joined us for brunch and ship-sinking-viewing, and a few others tied up to watch – here's the chain streaming behind us for Operation Sinking Ship. Yes, that includes BOTH of the powerboats.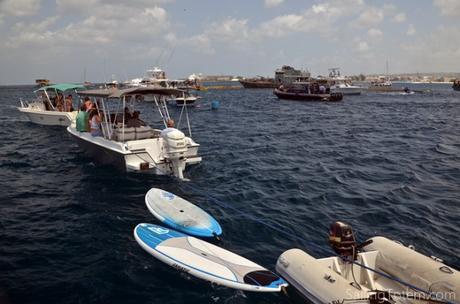 We closed out the week with a sushi feast. Mark's family runs a boutique hotel, Little Arches, and provided a delicious spread of one of our favorite treats at the rooftop restaurant.  Taste treats, a gorgeous view to the Atlantic, a gentle sea breeze… but at the end of the day, it's about building memories and spending time with people we love.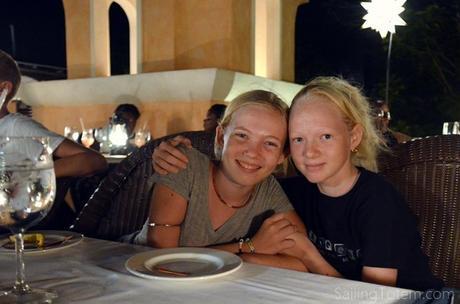 sisters.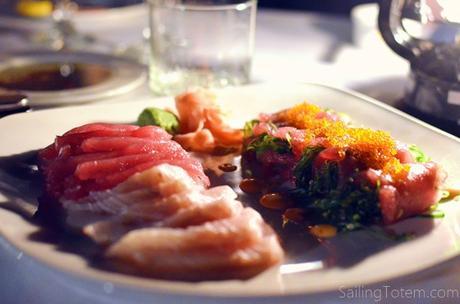 SO GOOD.
Among the top memories in my bank is the morning we had a group of Bajan kids out to Totem to check out life on a floating platform. They're all from the Bright Water Kids foundation, a charity started by the owners of Paddle Barbados to help disadvantaged kids have experiences that aren't readily available to them otherwise. These were all wards of the state who soaked up the 1:1 attention, TLC, and had a pile of questions for us. It was awesome to share a little peek into our very different way of life. Consider skipping a few trips to Starbucks and sending some $$ to Bright Water Kids: we saw first hand what a positive experience is being made in the lives of these kids!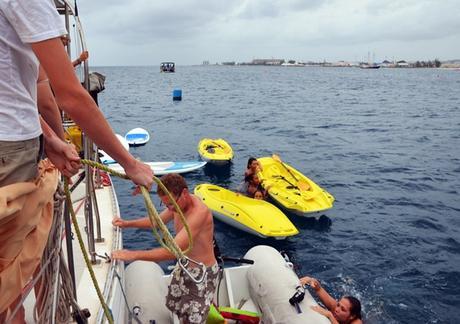 they arrived by kayak and SUP: all part of the experience!
If we don't make it back to Barbados, I sure hope we can convince Mark to cruise his boat a wee bit west and rendezvous for some cruising in company next year. Tobago Cays maybe?
Totem is currently in Dominica, working our way north towards New England for the summer.