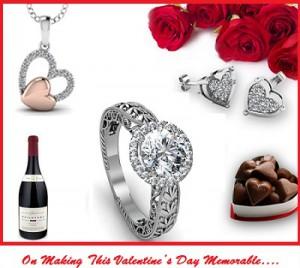 There are various ways by which you can make this Valentine's Day a memorable one, if you do plan to celebrate this day with your loved one, all that matters is that you do something special for her. It's a fact that women don't really weigh out a surprise by the amount of money you spent; little gestures of love that may not at all be expensive will also rekindle the spark in the relationship. With a few tips that will be helpful to plan out the day, and make it a special one that will go down memory lane as the most memorable one.
Tips to plan out the day
1. Flowers, women love flowers and she will love receiving flowers from her dearest.
2. Arrange for her favorite chocolates to be delivered to her at her workplace every hour for the entire time that she is at work.
3. Get a couple spa with massage coupon and make arrangements to spend some quality time.
4. Reenact your first date and take her to the same location and relive those fond memories.
5. Leave her a slip on her car telling her that you will be waiting for her at her favorite location.
6. Plan a treasure hunt for her to get to her location and leave little gifts that she will receive every time she gets to a location.
7. When she gets to her final location, give her a beautiful brilliant round cut diamond solitaire that will leave her speechless.
8. Open a bottle of her favorite wine, and enjoy a quite dinner at her favorite restaurant.
9.  Arrange for a babysitter for the kids and also for some help who would do all the household chores for her.
10. The most important thing is not to forget this day. Keep this in mind and you're sure to be headed down the right path.
Celebrate love this Valentine's Day, celebrate the joy of having this wonderful woman in your life who is there for you every step along the way, through all the good times and even through the rough wind, who makes every step of your way a little easier for you.  Celebrate her; celebrate your unconditional love for her. Show her that you are also always there for her and that you will love her all the days of your life. Happy Valentine's Day Darlings!!!