*This post is Day Twelve of the January Nablopomo 30-day blogging challenge hosted by BlogHer.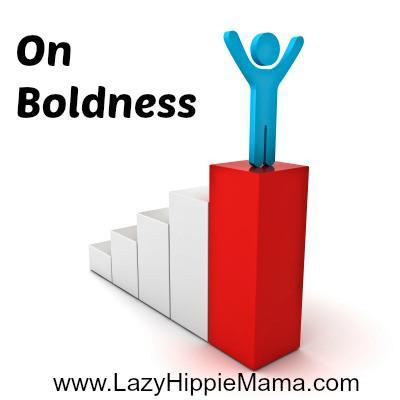 I think, maybe, one of the lessons that I'm being pushed into learning in 2015 is to act boldly. I am not a timid person. I don't shrink away from things, but neither am I especially assertive. I never have been. I don't want to hurt anyone's feelings. I don't want to bring anyone down. I for-sure don't want to end up in major confrontation with anyone. But there comes a time when the only way to make progress in life is by being bold.
In the Bible, in the book of Acts, it says, "…grant to your servants to speak your word with all boldness…" (Acts 4:29)
In context, the disciples of Jesus are praying for the courage to continue to spread the message of Jesus, despite the potential consequences of being thrown in jail or even executed.
Would I be so bold?
I'd like to think so, but the truth is I honestly can't imagine myself in that circumstance. People in America cry about persecution but the truth is we have no idea what it's really like. Christians in Syria know persecution. People of faith in Tibet, China, Afghanistan and dozens of other countries know real persecution. By comparison we are living on easy street in America!
Perhaps I can take a step toward being as bold as those courageous souls by approaching a homeless person to talk with them and learn who they really are.
Maybe I can learn to assert myself a little more by standing up for another mom who is getting "the skunk eye" in the supermarket because her child is crying too much or too loudly.
It could be that this is the year I share some of the things I've been holding back about on this blog, for fear that I will start too much controversy.
What do you think? How important is it to be bold? Can you be bold and still keep the peace? When has boldness crossed the line into pushiness/bullying? I'd love to hear your ideas!
Are you, too, seeking to save the earth, promote world peace and raise productive citizens without expending too much effort?
Why not follow LazyHippieMama on WordPress, by email or Facebook to get all the updates.
If we work on our goals together, they may be a little easier to achieve!

If you enjoyed my blog, it would mean a lot to me if you'd toss me a vote by clicking the Top Mommy Blog banner. Thanks!