Morning everyone! I'm on a mission today and I need your help. I'm looking for wedding stationery – the latest designs, newest trends and most exciting invitations in particular. So I'm searching for wedding invitation designers: get in touch and share your favourite designs!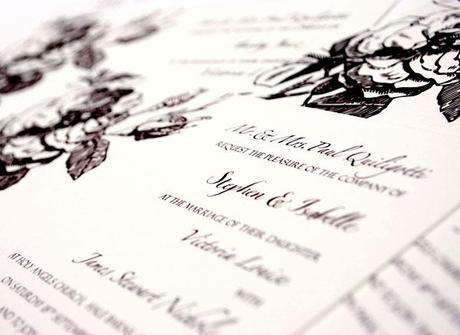 Wedding invitation by Dragonfly; calligraphy by Wedding-Calligrapher.com
Wedding invitations showcase
Why do this? I'm helping brides see the latest wedding invitation trends, and suppliers show off your wares! Show me your favourite design and I'll show everyone I know… that's the 700+ English Wedding blog readers who visit the blog every day.
I want to see a favourite design from every wedding invitation designer in the UK – and then I'm going to share your designs on English Wedding blog so readers can choose their favourites. The winning designer will get six months' free advertising on English Wedding with their own Showcase Page and access to the blog: you'll be able to showcase every new design until the end of June 2012!
Sound good? Here's how it will work…
Showcase your wedding invitations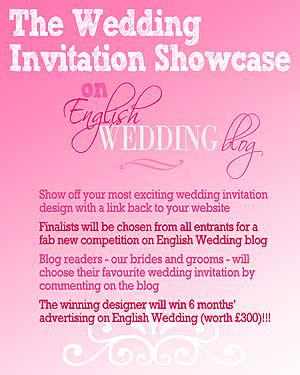 Add a comment to this blog post with your latest, favourite or best-selling wedding invitation design: you can attach an image by clicking the little link below the comments box. Please make sure your image is 600px wide (teeny or huge images may not be counted).
Allow a little time for me to approve your comment if you haven't commented on the blog before; there's no need to type it twice if it doesn't appear straight away: it will.
Include a little information about the design if you wish: why you love it, or perhaps the inspiration for the design. You'll be asked to include your website and email address – please include both.
What happens next – the competition!
Comments on this page will be open until the 28th of October
I'll choose finalists before the end of the month…
…then we launch the competition to find a winner on English Wedding on the 1st of November.
The competition will run for a month, and brides and grooms who vote (by commenting on a blog post) will be entered into a prize draw to win some lovely prizes!
I'll announce the winner on the 6th of December
The winner will get free advertising on English Wedding blog and the English Wedding Showcase for six months from the 1st of January to the 31st of June 2012.
Don't be shy! Enter now: choose your favourite design and upload it here to join in the competition. And good luck!
Claire xx