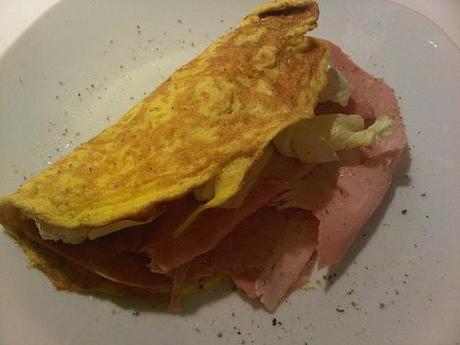 HI GUYS!
TONIGHT I MUST STUDY TOO MUCH AND I NEED ABOUT A QUICK DISH…WITHOUT LEAVE THE TASTE!
SO..BEAT 2 EGGS (SORRY JUANRA!). BRUSH THE BUTTER OVER THE POT AND PUT THE ""YELLOW LIQUID EGGS"" :) hihihi
WAIT A FEW MINUTES, AND TURN THE OMELETTE.
WHEN THE OMELETTE IS READY, PUT INSIDE HAM, CHEESE SPREADS, SALAD AND A SPRINKLE OF WHITE PEPPER!
YOU ARE READY TO EAT AN UNCONVENTIONAL SANDWICH.
DON'T TOUCH THE WINE, GO TO GET A BEER!
SEE YOU SOON! Fabusho!
/* */ /**/
(Not published)