Day 3 of my Olympic winners series includes my bodycare favourites and as you've probably already noticed all 3 contenders are from the same brand, so well done to Soap & Glory for completely changing my bodycare routine. It was quite difficult to put these products in order and choose a favorite but after some deliberating I'm finally here with my medal winners!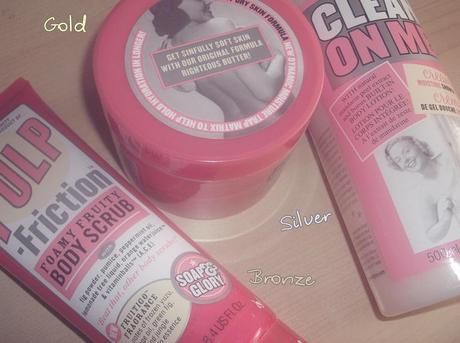 The bronze goes to Pulp Friction which has been my body scrub of choice since I got it at Christmastime last year, and sadly it looks like the tube is on its last legs now (boohoo). When S&G describe the scub as foamy and fruity they really do mean it, with a gorgeous fruit filled scent and the foamiest body scrub I have ever tried! Just a little squeeze of this scrub and you'll be left with smooth and nicely exfoliated skin.
Coming in next is the Clean on Me Shower Gel which has been my go-to shower gel for the past couple of years. Not only does it have that absolutely gorgeous signature Soap & Glory smell, but it leaves skin feeling so moisturised after stepping out the shower. It comes in huge 500ml bottles which last such a long time and at around a fiver it is a lovely treat to yourself everytime you get into that shower.
And finally.. the gold goes to The Righteous Butter Body Butter which never fails to leave my skin feeling so soft and moisturised. As always it features that signature scent which lingers on the skin for a little while without being too overpowering, and while the butter is thick in consistency it certainly doesn't leave you feeling greasy or tacky as it sinks in so easily. A staple in my bodycare routine all year round, that's for sure!