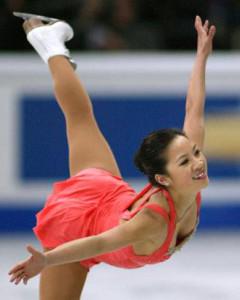 World champion U.S. national figure skater Michelle Kwan is engaged!
The two-time Olympic medallist is engaged to marry Clay Pell, director for strategic planning on the National Security staff at the White House.
On Sept. 3, Kwan, 32, got the ultimate bling of her life – a brand new diamond engagement ring. Pell, 30, proposed to her on Block Island off the coast of Rhode Island.
"It was a simple decision and it made sense, that's what's so exciting to me," Kwan says of the proposal. "We are working together as a team, like in [pair skating]."
The couple first met in April 2011 and since then have been dating.
"I was nervous about wanting to do it right, but I wasn't nervous about what the answer would be. We had been talking for a while about how we would like to have a family and the idea of getting married and what we wanted to do with our lives — and public service. So I think we both knew where we were relationship-wise and where we were going," added Pell.
Kwan and Pell, both hail from public service oriented families. Kwan was appointed to serve on the Council to Empower Women and Girls through Sports by Secretary of State Hillary Clinton in June; she continues to work as a U.S. public diplomacy envoy in the State Department.
Pell is a JAG and Lieutenant in the U.S. Coast Guard. He is also the grandson of the late Rhode Island Sen. Claiborne Pell, who established Pell Grants for college 40 years ago.
Though Kwan has 9 U.S. national figure skating championships, 5 world championships and 2 Olympic medals to her credit, but her diamond engagement ring will be her most cherished possession till date!
Congratulations Michelle and Clay! Wish you love and happiness filled lifetime. Michelle, we are eager to see your diamond engagement ring !