I feel so incredibly blessed and thankful to have K.A. Jagannathan as my uncle. Our lives are enriched by the people we spend our time with and how they influence us. He has been an incredible role model for me. He is strong-willed, intelligent and very young at heart. I admire him tremendously!
My uncle is a globetrotter, and his stories have always transported me as if I was visiting those places myself. He is also a diver, snorkeler and enjoys underwater photography. So far, he has done approximately 160 dives. I want to take this opportunity to share some of his photographs and experiences on what he sees in the bottom of the ocean. I was quite thrilled to interview him and curate these pictures from his numerous albums - Flickr Album and YouTube Channel.
Well, he turned 80 a few months ago. And, I'm sure you are thinking how an 80-year-old man can do this... and his advice is "It is never too late to follow your passions!".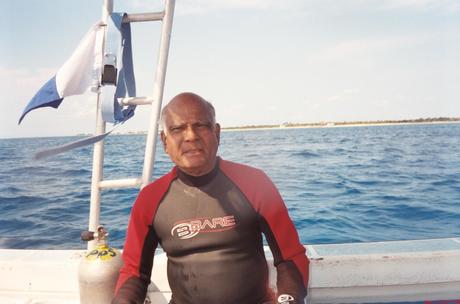 About myself:
I am a retired federal employee with diverse work experience: worked for private companies in India. In the U.S., I taught at a state university for four years after earning my Ph.D., worked for three years for a state government, and retired from federal service in the year 2006. I turned 80 in September of this year.
What made you a snorkeler?
To be able to snorkel or dive, one should be able to swim. When I grew up in India, it was very uncommon for people of my generation to learn to swim as there were no community pools. Rivers and oceans have drowned more persons in India than have taught people the swimming skill.
I was fortunate to learn to swim in the most unlikely, and probably most dangerous place, to learn to swim such as a sugar cane field well which had a uniform depth of 12 feet or more, (during heavy periods of rain). A hollow bitter gourd served as a life vest during the learning stage. At that time, I was barely 12 years old.
I was 55 years old when I had the opportunity to put my swimming skill to test when I visited Hawaii. I found out that swimming, like cycling, is a skill that stays with you for the rest of your life. However, it took me some time to feel comfortable in using the snorkel. Snorkeling opened a new window to underwater life and revealed the joy of seeing fish of various types and colors.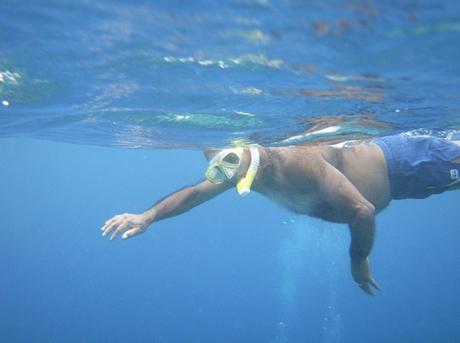 How did you become a diver?
For several years, I was contented to remain a snorkeler. I could not imagine myself wearing all the paraphernalia of a diver and disappearing under the water for a considerable length of time. A snorkeling trip that I made to Divi Resort in Bonaire whose water is noted for its visibility revealed the treasures of the ocean at a depth of 40 or 50 feet in stark detail. By this time, I was approaching 70 years. I felt encouraged by the experience of the snorkeling guide (Dee) who learned swimming only a few years earlier and honed her skills to an extent that she could work as a snorkeling/diving guide. I was impressed with the ease with which she could dive to a depth of 30 feet without fins and photograph sea life.
I was 74 years old when I was certified as an Open Water Diver!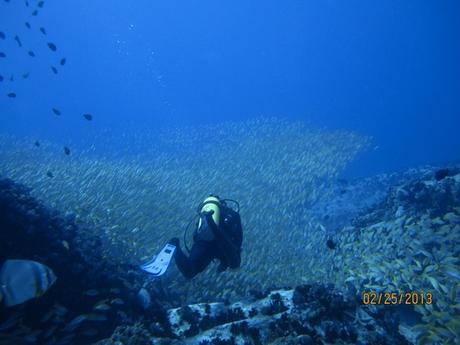 How would you describe the bottom of the ocean?
It is useful to remember that 70% of the planet is under water. The ocean has everything that the land mass offers and in equal variety: vegetation, sea creatures small and big, caves, mountains. The colors are dazzling and mesmerizing.
In Fiji, Indonesia, and other places, corals come in all shapes and colors. This is where Nature is at its best: fan coral, brain coral, finger coral, cauliflower coral, etc.




Can you name some places that you have visited? And talk about your most favorite dive?
I have visited several Caribbean islands for diving: St. Martin, Bonaire, Curacao, Cayman, Antigua, Cozumel, Bahamas, and The Dominican Republic. In addition, I have done diving on the Big Island of Hawaii, Maldives, Mauritius, Seychelles, Fiji, Malta, Bunaken (Indonesia).
My favorite places are - Fiji, Palau, Cozumel, Bonaire, Bunaken, and Maldives, not necessarily in this order.


How would you describe when sharks or other sea animals come near you?
Experienced divers are aware of the dangers of some sea creatures. Contacts with lion fish and jelly fish produce very unpleasant consequences. Moray eel has sharp teeth and its bite is highly infectious. Scorpion fish is another dangerous creature.
Although sharks have a bad reputation, I have had no problems during my several encounters with them. I was certified as an Extreme Shark Diver (diving at a depth of 85 feet without a cage) in Fiji in the year 2012. The sharks that I photographed here as close as six feet were bull sharks, nurse sharks, and a tiger shark.
Three months ago, I celebrated my 80th birthday shark diving in the Bahamas at a depth of 40 feet without any cage. There were over forty sharks in all sizes, and they were mostly Caribbean Reef sharks.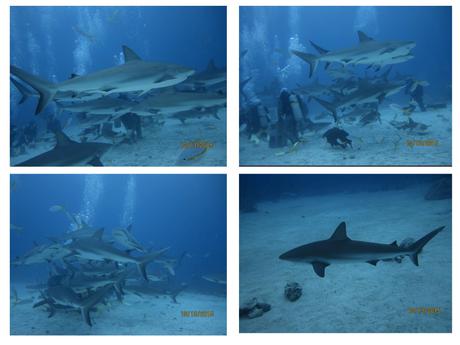 Any advice that I can give?
It is never too late to follow your passions!
For more pictures and videos go to - YouTube Channel and Flickr Album.