An old hand-built log meeting house quietly sits on a hill overlooking the campus of Luther Theological Seminary in St. Paul... so well tucked away you wouldn't know it was there unless you were looking for it at the top of the steps at the end of the parking lot at Luther Place and Como Avenue.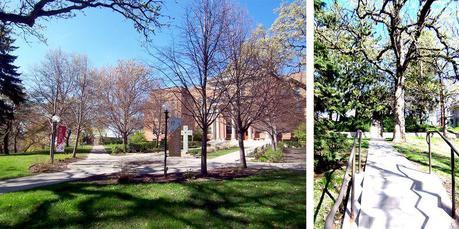 Old Muskego Church, which is both a state historical site and on the National Register of Historic Places, began its life in 1844 when it was built as the first Norwegian Lutheran Church in the United States. What is really interesting is that it wasn't even built in Minnesota. It was built near Racine, WI... four years before Wisconsin became a state. There it became a community landmark sitting on top of a hill in the farming community of Muskego.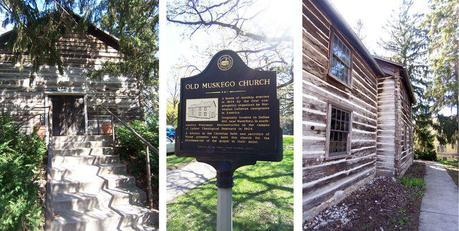 When the congregation outgrew it 25 years later Muskego Church was purchased by a farmer who used it for a barn. In 1904, sixty years after it was built, it was purchased by the United Norwegian Lutheran Church in America. It was carefully dismantled with the huge red oak logs carefully numbered so it could be reconstructed on a hill at the St. Paul seminary and preserved as a historic memorial.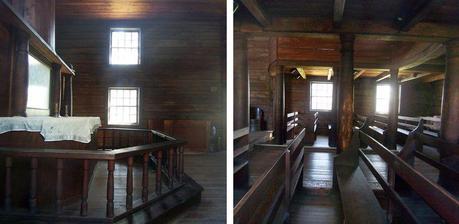 None of the wood has been painted, and despite its modest appearance it accommodated nearly 300 people on the main floor and balcony when it was in regular use. This first church built by Norwegian immigrants in America is still used for some weddings, baptisms and festival services.
 The St. Anthony Park neighborhood where Muskego Church is located also borders the St. Paul campus of the University of Minnesota and is close to the Minnesota State Fairgrounds. It is one of the Twin Cities' most diverse and walkable neighborhoods, with involved citizens and fascinating eclectic architecture both historic and modern.
See homes for sale in St. Anthony Park, which began in the 1880's as rolling estates for the wealthy. You can find this neighborhood just east of Highway 280 at Como Avenue.
Sharlene Hensrud, RE/MAX Results - Email- St. Anthony Park Realtor