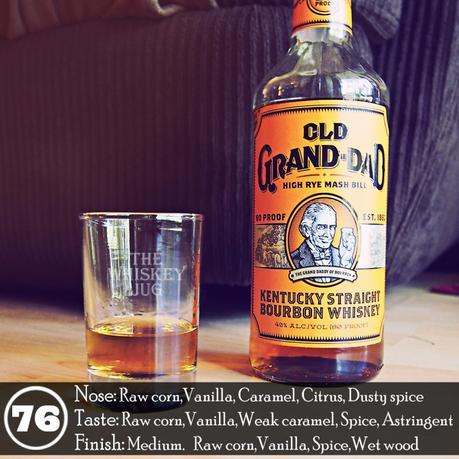 Old Grand-Dad 80 proof came into existence in 2013 when Beam decided to cut the 86 proof version down to 80 proof in order to stretch out how many bottles of whiskey they could get out of a barrel. If this doesn't make much sense to you I'll explain in the next paragraph. If it makes perfect sense to you then you might as well skip to the review.
When it comes to straight bourbon the only thing that can be added to it is water. When whiskey comes out of the barrel it's sitting somewhere between 50-70+% ABV (100 – 140+ proof) depending on how long it's been aging for and under what conditions. When bottled at full cask strength a barrel will yield between 180 – 230 bottles. When water is added it cuts the proof down, by adding to the total liquid volume, which in turn increases the number of bottles that can be sold per barrel of whiskey.
Old Grand-Dad 80 proof Info
Region: Kentucky, USA
Distiller: Jim Beam
Mashbill: 63% Corn, 27% Rye, 10% Malted Barley
Cask: New charred oak
Age: NAS
ABV: 40%
Price: $16
Old Grand-Dad 80 proof Review
EYE
Rusted Tang
NOSE
The aroma starts off with big notes of raw corn, vanilla and caramel which expand and fill the nose – leaving little room for the more subtle notes of citrus, dusty spice, watery fruit and strawberry Necco Wafers to appear. There is a vague woody underpinning that feels water logged.
PALATE
Dusty raw corn, vanilla and a watery caramel again dominate, but this time the bring a bit of spice with them. Some light notes of astringent wood, yeast and and a waxy citrus make a minimal impact.
FINISH
Medium and corn driven with light notes of vanilla, spice and wet wood.
BALANCE, BODY & FEEL
It doesn't feel very well balanced, carries a thin watery body and a soft light texture that completes the "boring whiskey" picture.
OVERALL
Old Grand-Dad 80 proof is a light, airy and boring whiskey. Does it work as a sipper? Sure, but it's not a very interesting one and only a few bucks more will get you the Old Grand-Dad BiB which is a much better whiskey. In a cocktail it's not bad, but again OGD BiB works even better with the higher proof giving it a bolder presence in the drink. My honest opinion is that Beam should only put out the BiB, 114 and Basil Hayden when it comes to their OGD mashbill. Cut this one from the lineup and focus on the ones that have a bit of backbone to them.
SCORE: 76/100